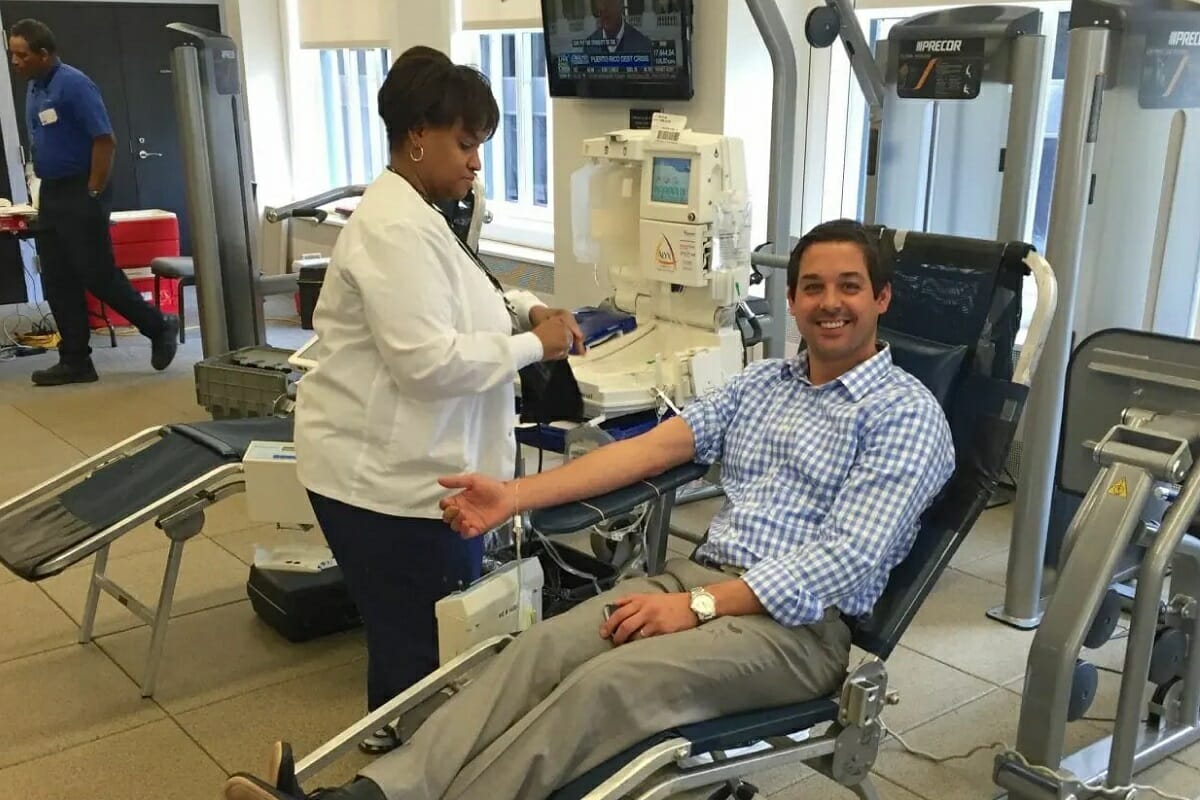 Did you know that by donating one unit of blood, you can save up to three lives? Imagine if all of the tenants in your building donated blood. How many units could be collected? How many lives could you save...a few hundred? And if all of BOMA/Chicago's Building Members hosted a drive together, how many lives could we save...thousands?
In 2020, we hosted 77 drives and collected 2,628 units of blood through partnerships with the Versiti Blood Center, Vitalant and the Red Cross. We did this with the help of your building teams and tenants during a global pandemic. We want to thank you for opening your doors for COVID-safe drives and continuing to impact lives during a year of hardship. Through these donations, we impacted 7,800 lives.
You can help save lives by hosting a blood drive in your building at a time that works best for your team and tenants. Please read through our Blood Drive Guide to learn more. Reach out to any of our three blood drive partners (listed below) to schedule your drive.
2021 UPDATE: Blood is urgently needed for our Chicagoland community. If you are not able to host a live blood drive at your building, please consider hosting a virtual drive. Whether you host a live or virtual drive, our partners will make the entire process very easy for you. Click here to learn more about virtual drives.
Versiti Blood Center (Formerly Heartland Blood Centers)
Carlos Chavarria
Account Representative
(754) 235-4127
CChavarria@versiti.org
BOMA/Chicago Blood Drive Initiative Q&A
Where are blood drives being held this month? The Red Cross and Versiti publish a list of upcoming blood drives on their websites. The list of upcoming Red Cross drives are listed here (type in the zip code close to you in the search field on the left). The list of upcoming drives hosted by Versiti is listed here.
What are BOMA/Chicago's designated blood drive months? We have chosen two months of the year, March and September, as official blood drive months. Although we encourage you to host a drive whenever is best for you, we want to bring all of you together to host drives during March and September of each year.
What is involved? Planning a blood drive is a simple, seven-step process that we outline within the Blood Drive Guide.
Who should I contact to host a drive? Please reach out to Versiti Blood Center, Vitalant or the Red Cross directly.
What is the deadline to host a drive? Versiti Blood Center, Vitalant and the Red Cross prefer that you schedule a drive at least 12 weeks in advance. However, our partners will try to accommodate any time frame you propose.
Why should you host a drive? Hosting blood drives brings value to your buildings through tenant engagement and demonstrates that your team, owner and tenants have a strong sense of corporate social responsibility.
For any other questions, please contact Rob Johnson, Director of Civic Engagement, at rjohnson@bomachicago.org or 312-870-9600.