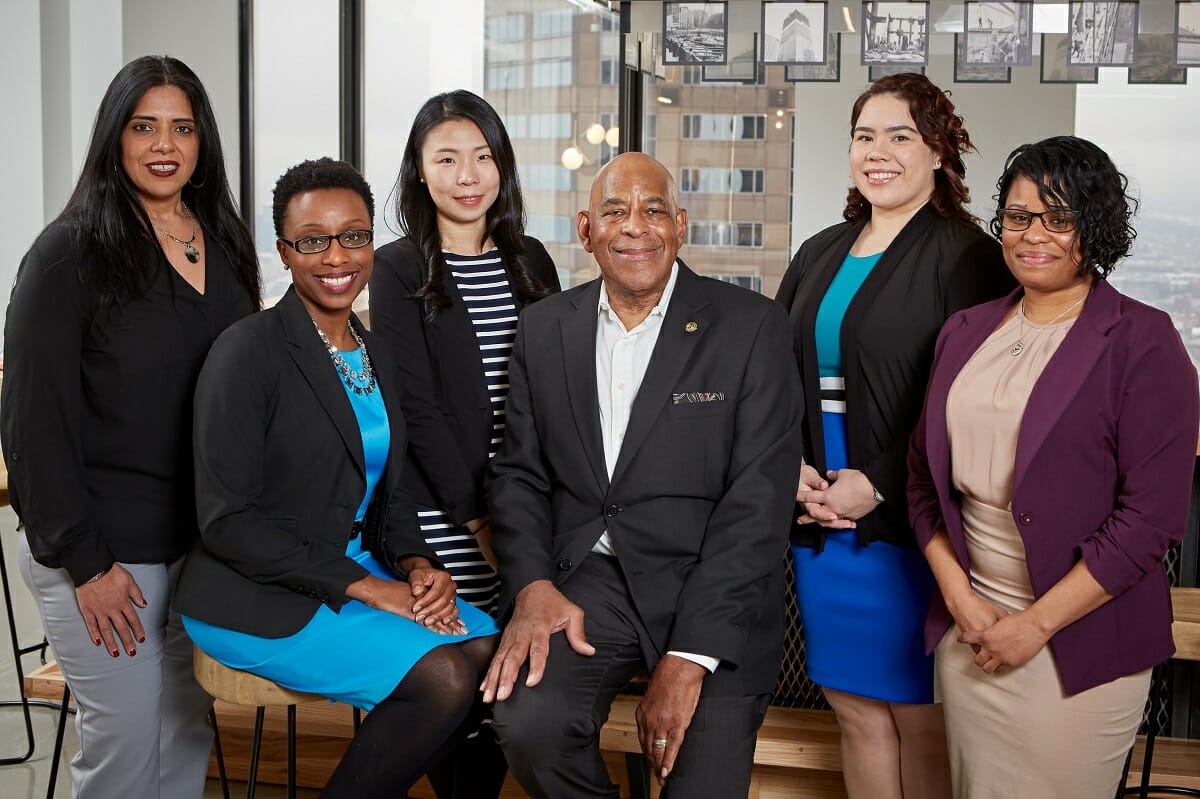 BOMA/Chicago Foundation Overview
The BOMA/Chicago Foundation was formed in 2008 as an Illinois not-for-profit corporation and has been qualified as a charitable organization under Section 501(c)(3) of the Internal Revenue Code.
The mission of the Foundation is to advance the development of emerging talent in commercial real estate, inclusive of underrepresented groups, through education, exposure and outreach.
The Foundation's primary goals are to:
Grow and support underrepresented professionals in Chicago's commercial real estate industry
Collaborate with local high schools and universities to educate students about careers in commercial real estate
Award and fund three scholarships for courses leading to achievement of the Real Property Administrator (RPA) and Facilities Management Administrator (FMA) designations:
Workforce Diversity Partner

Thank you to Hines, our 2023 Workforce Diversity Partner!


BOMA/Chicago Foundation Fund
The BOMA/Chicago Foundation and our Diversity Committee are 100% committed to promoting diversity, equity and inclusion in commercial real estate. As we continue to expand our efforts, we also need to expand and grow our resources. Under the leadership and guidance of CRE leaders and our Board of Directors, we have launched the BOMA/Chicago Foundation Fund.
You and your company can play a part and support the BOMA/Chicago Foundation through a donation. Click here to be directed to our Foundation Fund webpage. Thank you in advance for your support!
The BOMA/Chicago Foundation is qualified as a charitable organization under Section 501(c)(3) of the Internal Revenue Code. Donations to the Foundation are tax deductible as charitable contributions or as ordinary and necessary business expenses. Donors should check with their tax advisors.
Foundation Board & Committees
As an entity separate from BOMA/Chicago, the Foundation has its own Board of Directors, bylaws, books and records and tax returns. Three committees serve the Foundation – the Nominating, Diversity and Scholarship Committees.
The BOMA/Chicago Foundation Board of Directors is made up of 13 elected directors, including three officers.
Read through our BOMA/Chicago Foundation newsletters for information about our scholarship recipients, diversity initiatives, volunteers, donors and sponsors.
History of Diversity Committee & Committee Overview
With the help of Reginald L. Ollie, a retired African American CRE leader, BOMA/Chicago created the Diversity Committee. Reggie Ollie approached the Board about forming this Committee in July 1995 and soon after, the Committee was officially formed. Today, the Diversity Committee is housed under the BOMA/Chicago Foundation. We are very proud of this Committee and our volunteers who lead our diversity-focused initiatives.
We have a namesake scholarship for Reggie – the Ollie Scholarship – that is awarded to one underrepresented professional each year and pays the entire tuition for the RPA designation. In September 2019, both the BOMA/Chicago Foundation and BOMA/Chicago Board of Directors unanimously voted to honor Reggie with lifetime membership. We recognized Reggie at the November 2019 Annual Membership Meeting as a Lifetime Member and thanked him for tirelessly advocating for diversity in commercial real estate.
The Diversity Committee's current mission is: To recruit underrepresented and minority professionals to the commercial real estate industry and to promote professional diversity. Through scholarships, education programs and other efforts, the Committee will focus on retaining diverse talent in the CRE industry and forging avenues for professional growth of underrepresented groups, such as but not limited to racial, ethnic, LGBTQ and disabled groups.
Annual Diversity Celebration Fundraiser
The BOMA/Chicago Foundation hosts the Diversity Celebration each April to raise funds for its scholarships, mentoring, outreach and other programs. This event is open to both members and non-members of BOMA/Chicago.
Diversity Education, Career Days, Networking & Chicago High School and College Programs
You are invited to make a donation to the BOMA/Chicago Foundation. Donations to the Foundation are tax deductible as charitable contributions or as ordinary and necessary business expenses. Donors should check with their tax advisors.
Internships and Job Placement
Through our relationships with National Louis University (NLU) and other local non-profits and colleges, BOMA/Chicago has access to internship and job candidates. These candidates come from diverse backgrounds and are first-generation college students.
We are so proud to announce that the Diversity Committee assisted five college students secure CRE internships for the summer of 2021! Able Services hired one intern who is a student at the Illinois Institute of Technology (Kassidy Moy). Hines hired two interns, one from NLU (Tiffany Brown) and one from DePaul University (Khush Mistry). Glenstar also hired two summer interns from NLU (Joselin Rogel and Jose Berber).
Are you looking to hire interns or employees? If so, please reach out to Jaclynne Madden and she will connect you with students from local colleges and non-profits.
Creating Diverse and Inclusive Workplaces
The Diversity Committee believes that property management companies and vendor partners have a responsibility to help us diversify the CRE workforce and re-evaluate policies and practices to support the careers of diverse professionals. Please read through the Committee's recommendations of how you can create a diverse and inclusive workforce at your company.
Become a Diversity Ambassador
Are you passionate about enhancing diversity, inclusion and equity within our industry? Then we want you to join us as a Diversity Ambassador!
By becoming a Diversity Ambassador, you will help the Diversity Committee and Foundation:
Facilitate honest conversations about diversity and inclusion by encouraging others (and yourself) to share stories and experiences
Educate and mentor underrepresented high school and college students about the CRE industry
Recruit underrepresented professionals to the CRE industry and create professional advancement opportunities
Host building tours, job shadow days and networking events
Plan D&I education programs
See the above section titled Diversity Education, Career Days, Networking & Chicago High School and College Programs for specific information about the work we do and the organizations we work with, including Pass With Flying Colors and Junior Achievement. You can volunteer when you are available; we typically have several opportunities each month. We will email you with all available opportunities once you sign up to become an Ambassador.
BOMA/Chicago members and our community-at-large are encouraged to become Diversity Ambassadors. You will work hand-in-hand with our Diversity Committee in making measurable, positive steps in diversifying the CRE industry. Our future leaders are right here in our own community and YOU can make a difference by volunteering alongside us. All you need to do is complete this quick online Diversity Ambassador form and we will be in touch!
Financial Empowerment & Home Buyers Workshop
The Diversity Committee hosts a FREE Financial Empowerment & Home Buyers Workshop. During this 90-minute class, students learn about budgeting, saving, credit and money management. To find an upcoming workshop and to register, please visit this webpage.
The course is FREE for all attendees, including BOMA/Chicago members, non-members, security guards, janitorial staff, parking attendants, messenger staff, dock employees, mail room staff and all building professionals.
|f you have any questions about the BOMA/Chicago Foundation or would like to make a donation, please contact Jaclynne Madden, Director of Education, at jmadden@bomachicago.org or (312) 870-9608.