Gold Circle Award Profile: Mark Kexel with Titan Security Group and CBRE at 110 North Wacker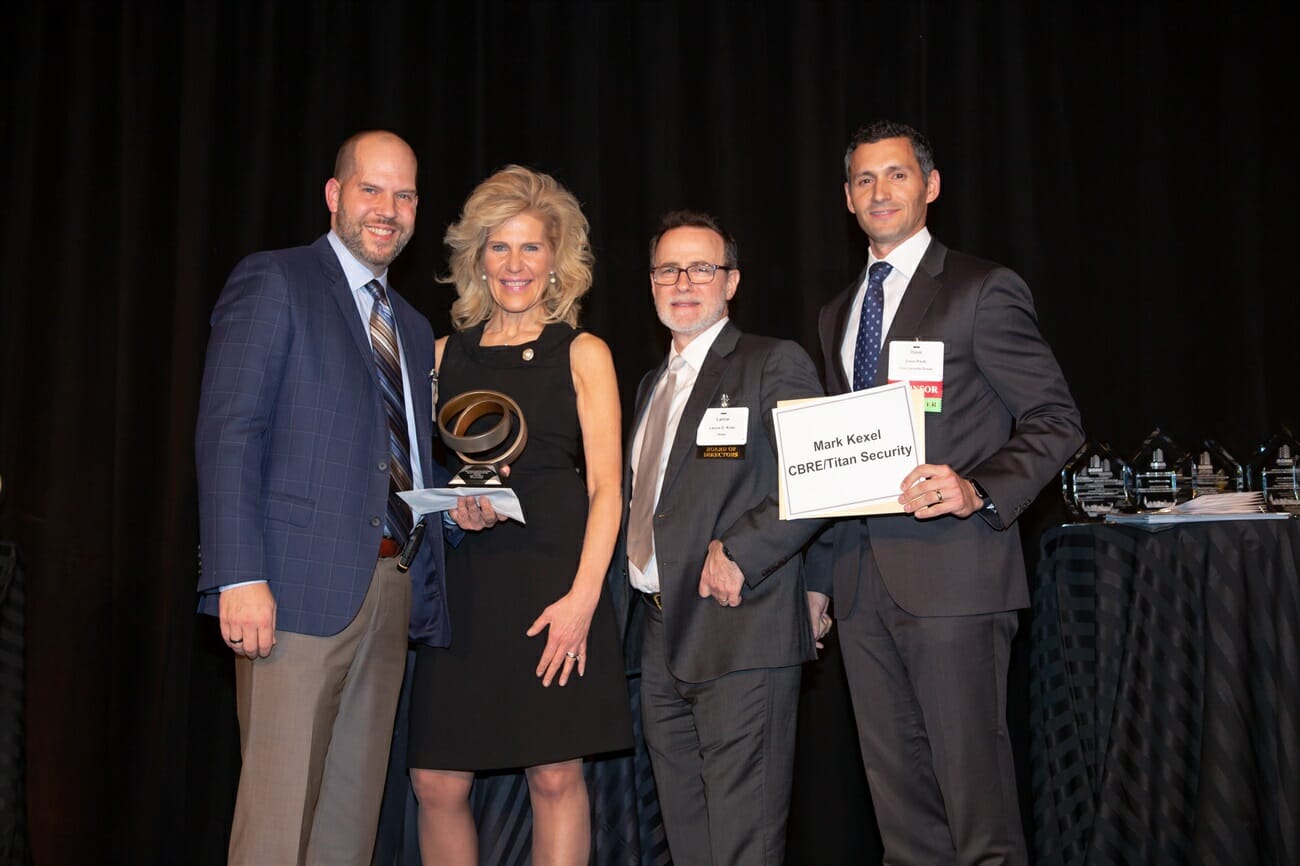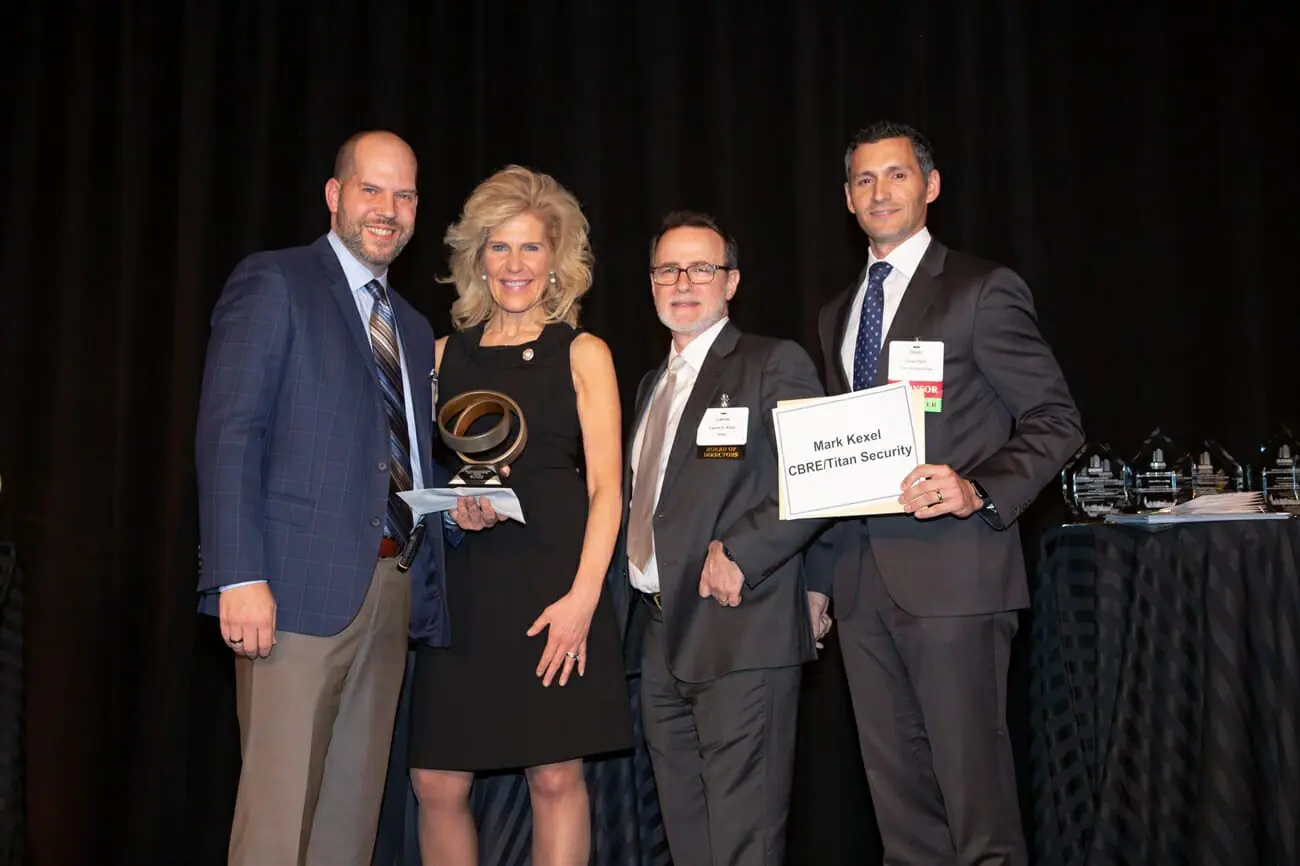 Mark Kexel, Director of Security with Titan Security and CBRE at 110 North Wacker, was named BOMA/Chicago's 2020 Security Professional of the Year.
How did you get involved in the security industry? 
When I was in my late teens, I wanted to become a Police Officer. At the time I thought getting into the private security industry was a good steppingstone. However, as I became more involved in the industry, my focus and path shifted. 25 years later, I am glad I chose the path I did. My first day working in the commercial high-rise market in downtown Chicago happened to be on September 11, 2001.
You served as the Chair of the Preparedness Committee. What are some of the notable accomplishments the committee has achieved over the years?
Strengthening and streamlining public/private sector partnerships and communications was the primary focus during the time I served as chair. We developed sub-committees and leveraged the reach of BOMA/Chicago which resulted in a prosperous progression.
When I look back at those projects, and then where we are today, our relationships and partnerships have truly become second-to-none. As an example, BOMA/Chicago, in partnership with other neighborhood associations, now have a dedicated seat in the Office of Emergency Management's (OEMC) Joint Operations Center (JOC) where we can communicate face-to-face with all City Departments during large City events and emergencies and share real-time updates to members. I'm pleased to see the continued accomplishments and strengthened partnerships the committee has made under the leadership of Erin Parks and Tom Henke.
Tell us about some of BOMA/Chicago's relationships with emergency responders and how they have been helpful to the industry.
I believe it is obvious to those on both sides of the table, public and private, that the unity between each is what makes the City of Chicago stronger as a whole.  Be it the Chicago Police Department (CPD), Chicago Fire Department (CFD), the Office of Emergency Management and Communications (OEMC), the Department of Homeland Security (DHS), the Federal Bureau of Investigation (FBI), the Secret Service, and many other departments, BOMA/Chicago has fostered a mutual-support structure with all.
You are opening a new building – 110 North Wacker – in the middle of the pandemic. How is that going and what measures are being taken in response to COVID?
Not only is 110 North Wacker the nicest office building in the city, it is also the most technologically advanced, especially when it comes to COVID response. As implemented at 150 North Riverside Plaza, building tenants at 110 North Wacker will likewise benefit from:
Passive thermal scanning for all tenants, visitors, vendors and contractors. We are using a medical grade thermal station that is 99.9 percent reliable.
Destination dispatch elevators that are programmed to limit no more than 4 people per elevator cab with supplemental programming to reduce intermediate stops
Nanoseptic labels that are reusable, self-cleaning and microbial on all common door handles, including washrooms
A secondary building wide air filtration system called Bipolar ionization which neutralizes and breaks down bacteria and virus cells, along with other particulate matter including odorous gases, aerosols and other volatile organic compounds
Medical grade MERV-15 air filtration
Messenger center attached to Delivery dock that sanitizes all in-bound packages before they are delivered into the base building.
Increased cleaning procedures and visibility – particularly in high traffic areas
With a new building comes a whole set of new procedures. Are you taking any different approaches to security when it comes to tenant interactions?
In addition to state-of-the-art technology, we're also taking a more human approach. With everyone wearing masks, it can be hard to see facial expressions and show a smile. We are training our meeters and greeters to put on a big smile that makes their eyes crinkle and use welcoming body language that translates to tenants and visitors even with the mask on. We also work closely with our staff and vendors about how to work respectfully with folks in the event they fail the temperature scans. We have spent a great deal of time thinking about and implementing additional processes to keep our staff safe, and that includes higher standards for staff, training, procedures, and due diligence.
Looting had a major impact on the Central Business District this summer. How did you prepare and how was your building impacted?
Over the years, BOMA/Chicago's Preparedness Committee has developed a series of best practices and the best practice on civil disturbance is really spot on. Knowing your property lines, when you can ask people to move off your property, and understanding risk versus threat are some of the key issues addressed in the procedure. BOMA/Chicago members can take advantage of our close connections with first responders, Notify Chicago, and most recently, the newly implemented Slack Communications channel.
Without any high end retail at 150 North Riverside Plaza, we were fortunately lower on the risk category, however, our owners made it clear that windows can be replaced but people cannot. We used technology and cameras to keep an eye on the property and scheduled off-duty law enforcement to be on the premises. We had all hands on deck and also kept an eye on news outlets and social media to know where the hot spots were.
Let's move on to a lighter topic – networking. What are some of your favorite BOMA/Chicago events?
I enjoy the TOBY and Gold Circle Gala the most. The event is a great way to recognize the properties and especially the teams that positioned these properties to become winners. We have so many beautiful properties in Chicago, nationally and internationally, but without the people they would not exist. The people are the ones that make it all happen so the gala is a wonderful opportunity to celebrate them.
I am not a good golfer, but I have always enjoyed the Golf Classic. I also look forward to the upcoming Annual Meeting, as it is a great way to learn what is happening with the organization.
I also tell everyone they need to be a part of the Preparedness Committee. I've been involved for 15 years. The committee offers networking and advocacy, along with a support structure and education that everyone can bring back to their property to help stay safe.
What is the best advice you have ever received? 
You don't have to be the smartest person in the room, you just have to be smart enough to surround yourself with people smarter than you.
You have traveled a great deal, especially on your motorcycle. Tell us about some of your favorite trips.
Hands down my favorite trip was the "Rockies" trip.  The twisty mountain roads, repetitive changes in elevation, the scenery and wildlife of course, and the air…. Air with actual oxygen!
What do you do for fun when you are not working?
I enjoy going on adventures with my wife and children whether it be 3-day weekend vacations, camping, or even just to the movies or out for ice cream.  I do enjoy some alone time as well, specifically at my cabin in Montana, but usually at some point during the alone time I realize I miss the family and look forward to coming back home.