Gold Circle Award Profile: Andre Wiggins, 2021 Property Management Professional of the Year
Andre Wiggins, Senior Vice President, General Manager with MB Real Estate at the Daley Center, was named 2021 Property Management Professional of the Year.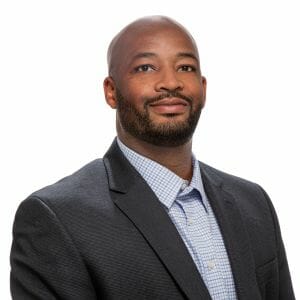 How did you get started in the commercial real estate industry?
I first got introduced to the real estate industry in 2002 when I started working for a small real estate developer on the North side of Chicago when I graduated from college.  I was working as the accountant and was responsible for the accounting of a 200-unit studio apartment complex.  Working in residential for 2 years, I was able to eventually find a commercial property accounting position with Insignia ESG located at 311 South Wacker. After Insignia was acquired by CBRE in 2003, I was able to find another property accounting position with the John Buck Company at 222 South Riverside.
I worked for the John Buck Company at 222 South Riverside and 200 South Wacker until 2008 when I made my move to the Richard Daley Center as Assistant General Manager.  Over that past 20 years I've worked in residential and commercial real estate as an accountant, assistant general manager and currently general manager.
What qualities do you look for when hiring building team members? Once they're on your team, how do you support them to ensure they're at their best?
When looking to hire new building team members, there are several things that I look for.  First, I want someone driven, looking to grow within the real estate industry.  This will ensure they are able to sustain motivation, always looking to learn and get involved in new aspects of property management.  In turn, this helps make the overall management team more efficient, learning from and working with one another.
Another important factor to consider is the candidate's ability to cope and deal with the many challenges a building like the Richard Daley Center may present.  At its core, the Daley Center is a public serving asset, serving close to 20,000 visitors per day.  Many people with varying interests and needs frequent the building on a daily basis and our team members have to be flexible in their approach to dealing with people and possess effective problem solving skills.  The building is highly customer service oriented.
The nature of the building is not something we hide during the interview process.  Most of the interview process is spent walking through the building and exterior plaza.  I want the candidates to get an active feel for the building on a personal level as we discuss their qualifications and overall career goals.
Constant communication is key once new members join our team.  Continuous cross training between all team members is also a focus to ensure team members develop healthy relationships and trust amongst one another.  Team members are always encouraged to get involved in project meetings and our weekly staff meetings ensure all team members are aware of the building's activities.
As young professionals think about advancing in their careers, what advice can you share with them?
As a young professional advancing in your career, you want to make sure you acquire all the necessary certifications and licenses associated with real estate management early on.  As you become a full-time employee within the real estate industry, you are immediately immersed within a very busy, fast paced work environment.  The last thing you want to be concerned with is a brokers' license or other industry recognized accreditation that may be required before you can advance your career.
Also, it would be a great idea to get involved with organizations such as BOMA/Chicago early on in your career.  BOMA/Chicago has many committees and platforms that provide networking opportunities that are essential to career advancement.
Finally, be inquisitive.  Always ask questions.  Never be afraid to let someone know that you don't know or understand something.  Try to take a small piece of something and understand the bigger picture.  Sometimes young professionals may be caught up in their own day-to-day tasks, while missing out on opportunities to expand their knowledge of property management as a whole.  Push your managers and supervisors to get you involved with different things.  At the end of the day, this not only helps you grow, but it also helps the entire management team grow.
COVID has created a great deal of challenges for everyone in the commercial real estate industry. Tell us about some of the obstacles you have faced during the pandemic and the preparedness and mitigation efforts you have spearheaded in response.
The COVID pandemic has presented the biggest and most difficult challenges faced during my property management career.  A few of the challenges faced are business continuity during the pandemic, ensuring the safety of building tenants and occupants and cost management for unanticipated COVID related expenses.
One of our biggest challenges during the pandemic was making sure the building continued to provide its typical services to the public, while ensuring health and safety for the public and tenants.  Constant communication with corporate office staff, consultants, health experts, government officials, and countless numbers of stakeholders helped us develop a plan to do just that.  The plan provides exterior tenting, health screening services, disinfectant, and facial coverings to all building occupants. The plan was replicated at other surrounding government facilities and is still in effect today.
We also continue to work closely with our tenants to ensure their spaces are equipped with the proper mitigations, such as social distancing decals and protective shields.  Tenants have also been afforded the opportunity to augment their space with use of building common areas as they promote social distancing within their workspaces.  We also assisted our tenants with the distribution of facial coverings and disinfectant to all the building's 3,000 full time equivalents.
Finally, we worked with an environmental services provider to develop a response plan for confirmed COVID-19 cases.  The plan included electrostatically applied disinfecting of all affected areas within 24 hours of notification, regardless of tenant space or building common areas.  This immediate response ensured tenant spaces were disinfected and turned over expeditiously so tenants could continue their business the following day.
With these additional services came unanticipated expenses.  As a result, we were forced to curtail many other services necessary to run an efficient building.  Luckily, we were able to fund all COVID related expenses without increasing operating expenses.  Also, we worked closely with our client to ensure these expenses were reimbursed to the property through the government's CARES Act.
In your spare time, you coordinate workshops to encourage minority business participation at the building. What are some of the steps our buildings can take to increase the number/percentage of minority contractors at their buildings?
There are many different approaches to procuring minority participation within building operations.  One option that can be readily achieved is requiring your existing contractors and vendors to meet certain minority participation requirements under their existing contracts.  This provides the building with certain performance protections as your existing vendor or contractor serves as the primary performer with a minority vendor working under them, collectively achieving any minority participation levels you require.
Another approach would be soliciting proposals from minority vendors to be contracted directly for building services.  This is best achieved through your Request for Proposal and new contract procurement processes.  You can solicit proposals from minority vendors and contractors directly, giving those vendors the opportunity to contract with you directly, versus acting as a subcontractor.
But it all starts with becoming more familiar with reputable minority firms and their capabilities.  As the private sector, it would be best to connect with buildings such as the Daley Center for referrals.  Or you can surf the City of Chicago minority vendor directory and research the approved vendor listings as well.
What is some of the best advice you have ever received?
Back when I was working with Insignia ESG, our Managing Director at the time was Sam Delisi.  He made the announcement to our accounting team that we were being acquired by CBRE and all the accounting work was being moved to Newport Beach, CA.  After the announcement, we had the opportunity to speak with Sam and I asked him how I could make a move from the accounting world to operations of building management.  He recommended that I start with getting my salespersons license and take some BOMA RPA coursers.  I have to say he was right. I quickly found out that the license was a requirement in real estate management and the BOMA RPA courses proved invaluable when learning about how buildings operate and function.
What are some of your personal interests and hobbies? Or what projects are you working on at home?
A lot of my personal interests are centered around my family.  I have a wife and five boys that are very active in sports.  I assist in coaching the basketball teams of my 15, 12 and 10 year-old kids.  There is a lot of traveling involved with the games, so we usually make a family trip out of each tournament.
In my spare time, I like working with my hands.  Although I'm not the best carpenter, I would give any project a try.  I have three residential rental properties where two of my sisters and my mom are the tenants.  Between the three homes, there are always opportunities for new projects, not to mention what I need to tackle at my personal residence.