Gold Circle Award Profile: Jason Sikora, 2021 Affiliate Member of the Year
Jason Sikora, Business Development Manager with Allied Universal, was named 2021 Affiliate Member of the Year.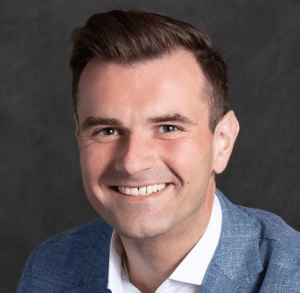 What was your first paying job?
I had my first semi-legitimate job was I was about 13. I worked with a bunch of other kids going to door to door in various neighborhoods selling subscriptions to the Macomb Daily, which was the local county newspaper in my hometown. My first completely legitimate job was a visual specialist for JCPenney where I would set up the seasonal décor, sale banners, and coordinate the mannequin outfits.
How/when did you start working in the security industry and/or the commercial real estate industry? I'm originally from Detroit. By the time the major recession of 2008 hit the country as a whole, Detroit had already been falling apart due to the collapse of the automotive industry. Everyone I knew was being laid off, including me. Towards the end of 2006, I was laid off from JCPenney and struggled mightily to even get an interview for a grocery store clerk. Everyone who was laid off from the automotive industry was now filling those same simple jobs already. At that time my brother was a local mall contract security officer, working for a company called William Davis & Associates. My brother told me that if I ever needed a job, he would get me one, no questions asked. At the time, I hated the idea of working in security because I was always one of those kids who spent part of his free time terrorizing the security guards at malls. Still, I needed to find a way to pay rent and there was quite literally no other jobs available. So, he brought me in to meet his boss one day and I had my first assignment checking receipts at a small grocery store in Detroit shortly thereafter.
I remember not being too fond of security for a quite some time because I was literally standing there and watching a clock. However, it wasn't too long before I realized that there is a lot of room for growth if you take your job seriously and help everyone you can. I don't think I ever imagined staying in security for very long, but here I am 15 years and later and the profession that I got into out of necessity has given me everything I have.
In a sense, I owe my brother a huge a debt of gratitude for opening a door for me I never would've touched otherwise. He helped put me on a path that created an amazing career for me. Unfortunately, my brother passed away in 2013. So, not only has security been a great career for me, it's sort of like a way for me to honor him and still feel connected to him in some way, shape or form.
What services does your company provide and what benefits do they provide to the commercial real estate industry? Allied Universal provides both unarmed and armed security officers; technology integration such as camera systems, access control systems, remote monitoring, robots, and drones; risk consulting services, off duty police officers, and executive protection.
What are some of the challenges the security industry has faced due to COVID? How has/is your company addressing those challenges? There were a number of challenges that we faced in the security space due to COVID. The main challenge we still face today (along with every other industry) is the vast labor shortage. While, I think we've come to a point where things will start to turn around soon, the way people view employment has vastly changed due to COVID. Many people prefer the ability to work remotely, but a majority of our positions just simply cannot be remote. It has really forced our teams to start thinking outside of the box and find more innovative ways to attract people to our industry and prevent those are here from leaving. It's also forced our teams to start thinking about how we can innovate our operations to perform the same work with less people.
In that same vein, we were faced with the need to completely change our operational management to fully remote almost overnight. Again, this challenge pushed our company in a new direction that has led to a higher adoption rate of new technology. This new and innovative mindset has created more value overall for our clients.
What are some new trends you are seeing in the security industry that impacts commercial real estate? One new trend that I am seeing that is impacting the commercial real estate industry is a higher demand for technologically savvy security officers. Again, COVID put the adoption rate of new technology in overdrive for almost everyone. I believe that trend will only continue to accelerate now that there is less apprehension towards technology. In order to keep pace with these changes, we as security providers need to ensure we are connecting the dots for our team members so that no one is lost in this ever-accelerating evolution of technology.
Coupled with that, we are seeing a much higher adoption rate of technology from all users including tenants and visitors, where some are starting to sometimes put convenience and safety over their own personal privacy. You see this in a lot of the new access control technology that is coming out everyday that allows end users to download apps on to their phone to remotely unlock doors. Now, I'm not saying that by doing this, people are putting their personal privacy at risk. What I am saying is that people this time 3 years ago were very apprehensive in using their phones in this way. Many people are now also becoming more comfortable with using biometrics for access control as well. Most of us are now using Face ID to unlock their phone or workstation. You now also see the same technology used in airports for a speedier transit through customs. Don't be surprised when you start to see some level of that translate to your traditional physical access control mediums as well.
One last trend that is still a ways out, but will impact commercial real estate in many ways is the advent of "Identity" that allows end users, such as tenants and visitors, to have absolute control over their identity through tokens and the like. Today, if a new employee comes to one of our buildings, our security team gathers this new employee's personal information and activates an access card or mobile credential to allow that employee to access specific areas within the building(s). The idea of Identity will ultimately flip this script, providing the new employee with the ability to ultimately control what they have access to and what personal information the building has access to. It's an abstract concept to some right now, but it essentially is the answer to the privacy vs convenience argument that is fairly prevalent in today's society. Ultimately, it will cause property managers and security providers to rethink how we control access.
Mentorships are important when it comes to advancing careers. What can you share about your experience as a mentor, mentee or developing mentorship programs? Mentorships have been a huge part of what has brought me to where I am today in my career. There are a number of individuals that passed on countless amounts of invaluable information to me that would have been very difficult to learn otherwise. It was for this reason that I created a networking and education group called Young Professionals and Emerging Leaders in Security (YPELS). This group served as a place for individuals who were new to the security space to network with other up and comers, and even learn and hone soft skills to better their career prospects. It was also a place to network with veterans of the security industry and build lasting mentoring relationships with them. One of the most humbling experiences for me is to see some folks who were mentees when I first started YPELS who are now serving as mentors for newer members of YPELS.
I took these same ideals to BOMA International a few years ago when my career had progressed into a Midwest regional role. I was looking for a way to learn how to make the most of my experience as a vendor at the international level, but ultimately there was no blueprint for how to be successful in that space. So, I worked with the National Associate Member (NAM) Council of BOMA International to create a NAM mentorship program that pairs long time national vendor reps with other vendor reps who are new to International level of BOMA. The program is now in it's first full year of activation and we've received a lot of great feedback thus far.
You are a member of the Communications and the Emergency Preparedness Committees. What are some of the benefits of being a BOMA/Chicago committee member? What are some of the initiatives you have worked on? There are three major benefits to serving on committees with BOMA: 1) Serving on committees gives me the opportunity to meet, work with, and network with other likeminded professionals, as well as build more personal connections with other BOMA Members that I get to work with regularly on those committees. 2) Serving on committees also helps keep me in the know of what is going on our city and the downtown commercial real estate market.  3) Lastly, serving on committee gives me the opportunity to participate and give back to a community and industry that helped me build a great deal of my career. It feels a lot like paying it forward.
You are so engaged with BOMA/Chicago and we see you at almost every event. Why is attending BOMA/Chicago events so important to you? Attending events and functions through BOMA/Chicago is important to me in that it allows me to reconnect with so many of my closest friends, colleagues, and clients all in one setting. It's even more amazing when separate friends and colleagues start to converge through our mutual relationships, and they become connected in turn. I'm a social being by nature and love connecting people. BOMA/Chicago's event feed both of those needs for me.
What is your favorite BOMA/Chicago event and why? My favorite events are typically the Emerging Leaders events. They are all so very well thought out and entertaining, but incredibly simple at the same time. Some of my closest friendships in our industry were developed at these events.
What would you share with other professionals who are interested in joining BOMA/Chicago? I would encourage anyone who is interested in joining BOMA/Chicago to sit down with an active member of BOMA and have them tell you what their personal connection to BOMA is. And if you end up joining, make sure you get involved. There is no point in paying for a membership and hoping that someone will call you. Attend events and join a committee to get your name out there and get the most out of your membership.
What advice do you have for new members who want to network and make new connections with downtown office building owners and managers? I would suggest meeting with any of the BOMA staff members (Amy Masters and Beth Halat are great!) to see if they can introduce you to someone you might have something in common with. From there, get out to some events and say as many "hello"s as you can. My advice for vendors: BOMA events are not the place to talk shop. Giving a sales pitch at a BOMA event is tacky and bad form, yet I still see it happen from time to time. BOMA is about building relationships and you do that by getting to know people for who they are, not for what they can buy.
What special interests and/or hobbies do you have? Anyone who knows me typically knows me as the crazy runner guy. I talk about it too much and some times I can't control it. Sorry everyone. I was the kid who couldn't run the mile in high school, so I started running a few years later to prove to myself that I could. Within my first year of running, I trained and ran a 5k, Half Marathon and a Marathon. Since that year, running has become an essential part of my day that helps me de-stress, and collect my thoughts. I now run races up to 50 Miles in length. Most recently, I competed in the Ice Age Trail 50 Mile race in Kettle Moraine, Wisconsin. Like I said, I'm the crazy runner guy.
What would surprise our members most about you? My entire family is chock full of introverts. My family lives towards the northeastern tip of Michigan's lower peninsula in small cabin in the middle of nowhere with no one around. They have always loved their alone time and are fine being alone and peaceful. If you know me, I'm the complete opposite. I really have no idea how I turned out this way.
If you could travel anywhere in the world, where would you go and why? Or tell us about a favorite place to travel or favorite trip. This is a hard one. I love both Ireland and Italy. There is a little mountain island off the southwest coast of Ireland called Skellig Michael. You have to schedule a small fishing boat to take you there months in advance. However, the weather in that area is so volatile that you have  50/50 chance of your boat canceling the day before (so book two consecutive days to be safe). The story behind this island is incredible, the views are astounding and the experience will always stick out as one of my favorite things ever.
More locally, my favorite place in the States is the Grand Canyon. I never quite understood the hype as a kid – I mean, it's just a big crack. I went out and hiked to the bottom and back a couple of years ago and from that point on, I totally understood the hype. The size of that place is overwhelming and it really makes you realize just how small and insignificant we all are. When things get hairy and life gets me stressed, it always helps to reflect on the Grand Canyon to help me reassess what really is significant vs what doesn't really matter at all.