Gold Circle Award Profile: Larry Dunn, 2020 Building Engineer of the Year
Larry Dunn, Chief Building Engineer with Able Services and MB Real Estate at 1 N. LaSalle Street, was named 2020 Building Engineer of the Year.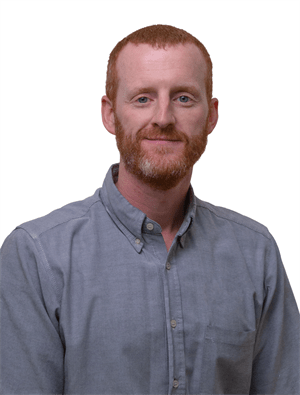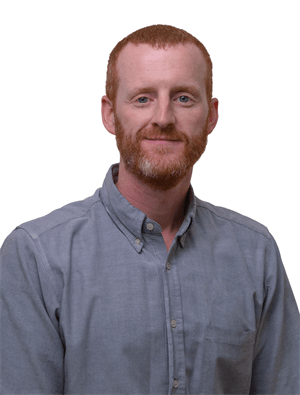 How did you get your start in the commercial real estate industry?
I went away to college and quickly realized it wasn't for me. I joined Local 399, which sparked an interest in mechanical systems and building operation. Eventually I returned to school and continued to balance work at the same time.
You're in the process of getting your bachelor's degree from IIT along with your real estate license. How will this help you in your role as Chief Engineer and further your knowledge about the industry?
I'm still working on both currently. Like a Building Manager, the Chief has to wear many hats. We're a technician, accountant, owner's representative, general contractor, tenant liaison, salesman, leasing assistant and employee referee. I've picked up a few things from each class I've taken. Outside of the technical aspect of school, I've come to understand the importance of listening to others. Whether it's the teacher or classmates, I can draw from their experience to improve my own.
What is your "pet peeve" in the work place? 
When people do not attempt to use all the resources available while problem solving. I always preach to my guys to use the manufacturer's technical support. There are people sitting at a desk somewhere that get paid to help answer questions about their products. More times than not, they can give you all the answers you need.
What are some of the new operational practices you have implemented in response to COVID in preparation for tenants' return?
Just leading by example and showing up to work each day. Proving to the tenants that it's okay to come back. Our staff hasn't missed a day and we're following all the recommended best practices.
What are some of the innovative ways you're working with tenants in response to COVID?
We conduct weekly rounds in all our unoccupied spaces, which includes chlorine testing on our domestic water system. In these unoccupied areas we had to find our balance between reduced energy consumption and exercising the HVAC equipment. This will help keep our energy bills in check.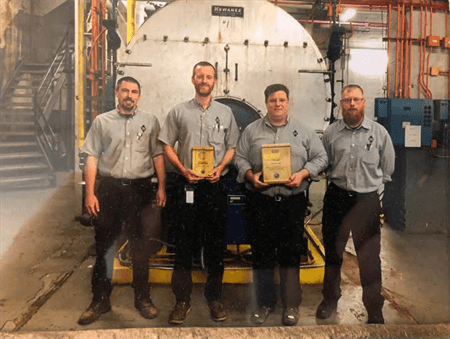 How has COVID impacted your day-to-day work schedule and what are some additional safety measures you and your staff are taking?
We split up our Engineering staff throughout the building. Each of us has a separate work station/break area to practice social distancing. We also received boxes of PPE from ownership and just continue to wear our masks in common areas.
You have been involved in sales pitches to other buildings on behalf of MB Real Estate. What advice would you give to other building engineers if they were going on their first sales pitch with their team?
The experience definitely took me out of my comfort zone, but gave me more confidence in my abilities. I really enjoyed being part of the process. The whole group met every day, for three weeks to practice. We all had input and gave it our best effort. Of course, not winning the bid was the hardest part, but what a valuable experience. The advice I would give to others is to not allow yourself to make the situation any bigger in your head. Be honest with your story and that will reflect in your ability to tell it.
What are some trends you're seeing in the commercial real estate industry that interest you the most?
COVID has impacted commercial real estate, but we don't know to what extent yet. The immediate impact has required testing chlorine levels throughout the building and calculating the amount of outside air exchanges each air handling unit (AHU) requires. Regardless of future re-occupancy, logging these procedures may be part of our weekly rounds.
What tools and technology do you use the most be more energy efficient in your building?
Our new building automation system (BAS) has given us the ability to dial in our energy usage and control everything from one system. Also, we recently contracted with an energy monitoring service. They provide another set of eyes on our daily consumption with real-time data and emails if their technicians notice anomalies outside of our operating schedule. It's actually reassuring to know there is someone strictly focused on this task.
Tell us about some of the systems in your building that are new or unique and how they help you operate your building.
The equipment we have added over the past few years isn't unique or cutting edge. It's tried and true and proven to cut cost. New BAS, variable frequency drives (VFDs) on AHUs, domestic water pump system and cooling tower refurbishment to name a few. Some of our systems dated back to the 1950's, so it was time.
You've been very successful at One North Lasalle in achieving rebates from People's Gas for over 14 different projects, resulting in a 75 percent savings on out of pocket costs for your building, along with obtaining rebates from ComEd resulting in 52 percent out of pocket savings.

What are some effective ways to pitch sustainability projects to building owners?

Sustainability has been a popular buzz word around the industry for the last 10-15 years. In my opinion, it required more of pitch 10 years ago to get owners to buy into large scale projects. Now, owners are pushing Managers and Engineers to scour their building's for opportunities to save and improve.
If large scale projects are hard to commit to, don't be afraid to break them up over the span of a few years. In our case, this was new controls on 60 AHUs along with VFDs and a new BAS to name a few. Completing these projects in smaller manageable portions may help to gain approval.
Can you tell us more about the projects and impact they made?
Two of our heating season projects have made a major impact on our building. One is having our 2,500 steam traps tested by a third party vendor then submitted to Peoples' Gas for a rebate. Along with testing these traps we discovered a piping flaw in the system. We've re-piped, in-house, over half of the building's radiators, which has improved the flow of steam and sped up the condensate return to the boiler. These projects, along with other HVAC improvements, have reduced temperature complaints by 38% from our tenants.
Can you share advice about how to work effectively with ComEd and People's Gas to obtain energy efficiency rebates?

Both utility companies have websites that are very easy to navigate and they may have additional information about bonus rebates or programs. I would suggest speaking with a representative about your specific project. Some of the technical projects that include controls or BAS will require screenshots and trending so you may want to account for that in your budget.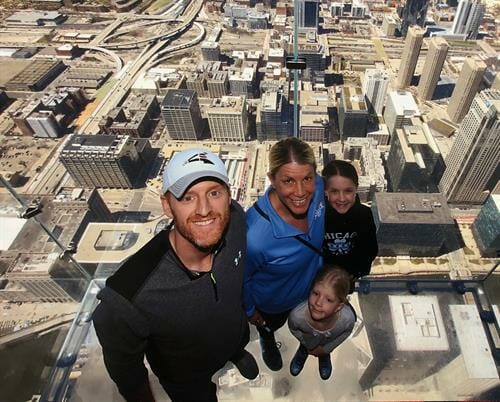 Outside of work, what are some of your interests and hobbies?
My kids are my number one hobby. They are only little for so long so I want to enjoy every minute. I've become an expert fort builder over the years. Give me some couch cushions, chairs and huge bed sheet and they'll be occupied for a few hours.
Tell us about your volunteerism at St. Christina Parish. How did you get involved, what is the impact, and why is it important to you?
My wife and I enjoy playing and watching all sports. Our kids have really taken on that interest as well. My wife started a basketball team for them and their friends. I assist her where I can with this endeavor. It's been fun to watch them strengthen their skills and gain lifelong memories with friends when we travel. The team also played a part in fundraising for the local businesses during COVID. We try to keep them active and appreciative of all our blessings in life.
Would you like to nominate a deserving industry professional for a Gold Circle Award? We are accepting 2021 nominations for the Gold Circle Awards through Friday, October 23. Head over to our Gold Circle Nomination Process page for nomination guidelines and forms.