Soldier Field: Where Chicago Flexes its Big Shoulders
f you ask any number of Chicagoans about their sentiments towards local politics, baseball teams, Chicago neighborhoods or which local eateries have the best Chicago-style pizza or hot dogs, you will certainly receive a variety of confident responses. However, one thing all Chicagoans can agree on is that this is truly a "Bears Town."
Chicagoans are proud of many aspects of our culture (our world-famous skyline, our improvements to traditional dishes, Lake Michigan and our rich history just to name a few), but nothing is closer to some Chicagoans than their near religious devotion to the Chicago Bears. Despite having a rocky start to the year (a subpar 2-3 record after last night's loss to the Detroit Lions on national television), fans still flock to the Chicago Bears' home at Soldier Field every Sunday.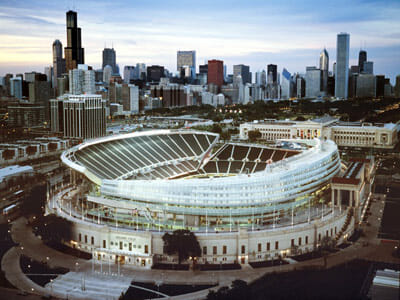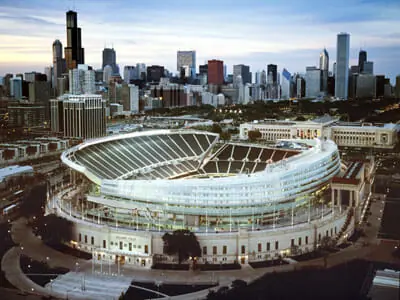 Aside from the Wrigley Building, the John Hancock Center and the Willis Tower, Soldier Field may be the most famous structure in the downtown area. Located on the shores of Lake Michigan just south of the central business district, the stadium originally was built as an epicenter of Chicago pride. It was dedicated as a memorial to the men who fought in World War I and designed to host a variety of public gatherings.
The most important public gathering held at Soldier Field are of course Chicago Bears home games. Last year, tickets sold out for the 25th straight season, and the season ticket renewal rate is well over 90 percent. Although Solider Field is the NFL's smallest venue with 61,500 seats, it averages 101.2 percent capacity per home game. Almost 90 percent of the seats at home games are occupied by season tickets holders, so the season ticket waiting list of approximately 5,400 will only continue to grow.
What Solider Field lacks in space it makes up in green initiatives. In addition to pursuing the USGBC's LEED for Existing Building certification, Solider Field has made a significant investment in energy efficiency and recycling initiatives to reduce its environmental impact. The stadium also has more than 89,000 square feet of green roof space, dual flush toilets, signage to reduce water use and parking for alternative fuel or hybrid vehicles.
Like the Chicago Bears, however, Solider Field has been the center of its fair share of controversies. One of the most memorable was the heated discussion surrounding its 2003 redesign. Despite Chicago's notorious construction turnaround time, the renovation was completed in only 20 months and holds the record for shortest construction time for a modern stadium.
Once the renovation was complete, the New York Times ranked the facility as one of the "Five Best New Buildings of 2003."  However, Chicago Tribune architecture critic Blair Kamin referred to the new building as the "Eyesore on the Lake Shore." In addition, Solider Field was delisted as a National Historic Landmark as a result of the modern redesign.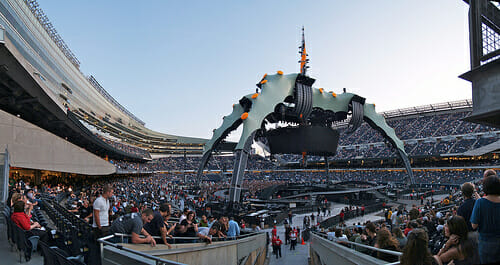 U2 World Tour Performance at Soldier Field
Soldier Field has hosted many notable events, including Martin Luther King's Chicago Freedom Movement rally, the 1994 FIFA World Cup, College All-Star games and countless concerts by world-famous musicians such as The Rolling Stones, Madonna, Bon Jovi and U2.
Soldier Field couldn't be a more appropriate place to house more than 60,000 Chicagoans as they chant "You're the pride and joy of Illinois" during Chicago Bears games. Solider Field's rich history, world-renowned events and elicited pride personifies what it means to be a true Chicagoan.
What are your favorite Solider Field memories? How do you think the stadium has impacted Chicago? How does Solider Field rank with other football venues around the nation?  Leave us a comment and let us know.