Let's Talk Energy: ENERGY STAR Ratings and City of Chicago Energy Rating System
By Samantha Davidson and Marie Curatolo with ESD
In September 2013, Chicago adopted the energy benchmarking ordinance for residential, commercial, institutional and municipal buildings. Five years later, Chicago achieved LEED for Cities Platinum certification. In February, Illinois was rated the top state for 2018 LEED green buildings based on certified GSF per capita.
It should come as no surprise, then, that Chicago is a leader in sustainability. Within the past year, the City of Chicago has experienced a couple of new updates relating to building energy including changes in ENERGY STAR scores and Chicago's new energy rating system.
ENERGY STAR Portfolio Manager Scores
ENERGY STAR Portfolio Manager, the well-known online energy tracking tool and website used for compliance with the City of Chicago Energy Benchmarking Ordinance, updated its Commercial Building Energy Consumption Survey (CBECS) data from 2003 to 2012 in August 2018. Prior to the update being released, ENERGY STAR Portfolio Manager anticipated a drop of 12 points from office buildings. Following the update, most commercial office buildings throughout Chicago have been hit harder than expected.
Why did my score drop significantly?
The CBECS 2012 data highlighted a statistically significant change in office buildings' EUI (energy use intensity – energy/sf) as compared to the 2003 data. The lower EUI in the 2012 data corresponded to a significant drop in ENERGY STAR score. We've seen an average drop of 16 points, although point drops vary based on fuel mix, energy consumption, property use, business activities and other variables.
Why did this happen?
Every four years, the U.S. Department of Energy's Energy Information Administration (EIA) conducts a national survey, CBECS, to gather data on building characteristics and energy use from buildings nationwide. The U.S. Environmental Protection Agency (EPA) uses CBECS data to create a statistical model. ENERGY STAR Portfolio Manager compares the actual energy data for a building to the modeled estimate to determine a score relative to its peers on a 1-100 scale.
Because the EIA was unable to publish the 2007 CBECS data, many of the ENERGY STAR scores relied on the 2003 data collected through August 2018. This did not allow buildings to compare their energy consumption to more current statistics. The CBECS 2012 data was released in 2016 and officially rolled out in ENERGY STAR Portfolio Manager in August 2018. ENERGY STAR Portfolio Manager benefited by the update to:
Keep metrics current
Leverage most recent market data
Re-assess key drivers of energy use
Push existing buildings to re-evaluate their energy usage
Continue reduction of greenhouse gas emissions
By working to increase energy efficiency in new and existing buildings, we will continue to progress toward a greener future.
City of Chicago Energy Rating System

Starting in 2019, the City of Chicago is implementing a new building energy rating system based on the City of Chicago flag.
What is the new City of Chicago Energy Rating System?
Chicago is the first city nationwide to implement a building energy rating system. The rating coincides with the submission of energy from the city's energy benchmarking ordinance. Buildings will be given a rating based on their energy score and any energy improvements. As detailed in the energy rating scale below, buildings may earn a higher rating by improving their ENERGY STAR score by 10 points within two years.
Zero stars: Out of compliance with energy benchmarking (no report sent to the City)
One star: 1-40 points
Two stars: 41-60 points OR a score of 11-40 points and a 10-point improvement in the past 2 years
Three stars: 61-80 points OR a score of 41-60 points and a 10-point improvement in the past 2 years
Four stars: 81-100 points OR a score of 61-80 points and a 10-point improvement in the past 2 years
Below is an example of the rating placard that must be posted in a prominent location in the building and shared at the time of listing the property for lease or sale.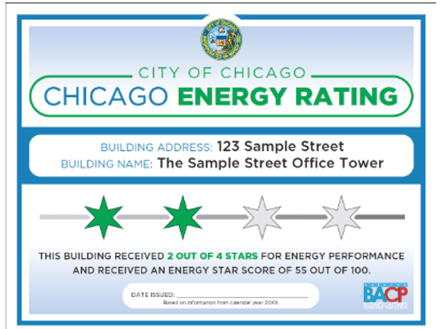 The goal of the Chicago Energy Rating System is to simplify information that is already publicly available.

How To Take Action

Building owners and operators are faced with a difficult situation: Their ENERGY STAR scores dropped, in many cases much more than expected, and a new rating system is on the horizon and they may not have any plan in place to respond.
After taking the first measurement step by determining its score in ENERGY STAR Portfolio Manager, how can a building team identify which opportunities to pursue, especially in light of an unexpected score drop it might not have planned for (financially or otherwise)? There are several energy efficiency services that can help:
Energy Audits - Discover no/low-cost operational improvements as well as larger capital projects to improve your building's energy performance in both the short and long term through on-site data gathering and varying levels of analysis of energy conservation opportunities
Retro-Commissioning (RCx) – Systematically identify energy and operational optimization opportunities in existing buildings with a focus on simple operational and settings changes made in a one-time effort
Monitoring Based Commissioning (MBCx) - Identify energy savings with automated fault detection and software that can detect when building systems are not operating optimally and help building staff react to anomalies, assess savings opportunities, and prioritize energy and operational and maintenance issues and improvements
While energy audits can provide tremendously useful details and next steps, they often come with a price tag. For some buildings, this cost can be prohibitive. In those cases, building optimization may be a better option.
Encompassing both retro-commissioning (RCx) and monitoring-based commissioning (MBCx), building optimization is a whole-building approach to optimizing energy performance through primarily operational and maintenance improvements. Building optimization efforts can save up to 5%-25% of annual energy costs as well as improving operations and maintenance through increased visibility into building operations.
However, these improvements, if only performed in a single effort (as is the case with RCx), often falter over time. Schedules and set points, for example, often are reverted to their original settings and go unnoticed for long periods. As a result, predicted energy savings are not fully realized. To address this depreciation of savings, MBCx has emerged as a leading low-cost means of ensuring the persistence of energy savings. The measures identified through MBCx usually have project payback periods of 3-12 months. MBCx offers significant operational impacts in addition to energy savings:
50% improvement in HVAC-related O&M hours
30% average decrease in duration of HVAC-related problems
40% reduction in HVAC-related complaints
10% Reduced asset breakdown and increased asset lifetime
What resources are available?
Turning energy conservation measures into action can be just as hard as identifying them. Often, traditional financing mechanisms such as capital and operational budgets or debt are limited or unavailable. Alternative financing mechanisms and utility incentive programs may help push projects past this barrier.
In Illinois' deregulated energy market, innovative solutions like a reverse-auction platform where energy suppliers compete to under-bid each other, strategic energy procurement can free up operational expense dollars that can be redirected to energy efficiency. Chicago is also rolling out a Property Assessed Clean Energy (PACE) financing program: A no-first-cost capital improvement financing approach in which the City's program implementer provides funding for energy efficiency improvement measures that is repaid through a special assessment on the building's property taxes. Depending on lease structures, the repayment may be able to be passed through to tenants. Additionally, the tax assessment stays with the building in the event of a change of ownership, so the owner is not liable for repayment if the building is sold.
Utility incentive programs are a more commonly-known means of reducing payback time on energy conservation measures. In ComEd's service territory, standard rebates are available for equipment upgrades including lighting, variable frequency drives, lab equipment, refrigeration equipment, and HVAC projects. Buildings replacing programmable thermostats or an old BAS are eligible for incentives on a per square footage basis if they include eligible enhanced control strategies. Additionally, any projects that save energy can be submitted as a custom project. To encourage buildings to continually pursue energy conservation measures, ComEd offers a 20% bonus for completing three or more eligible projects within two years. ComEd provides a detailed list of which measures are considered eligible.
For RCx and MBCx, ComEd offers incentives to partially or full offset the cost of an energy study performed by a qualified service provider to identify measures. RCx programs also include a performance incentive in terms of dollars per kilowatt-hour savings achieved. The MBCx program fully funds the cost of the monitoring software to be integrated with the buildings BAS along with the cost for a service provider to engage in engineering consulting services for a one-year engagement.
The ENERGY STAR Portfolio Manager recalibration underscored the need for buildings to take swift action to address energy performance – especially if they want to stand out as leaders. Identifying and implementing energy conservation measures are the first steps in responding to this need, but it is just as important to measure the effects of energy efficiency initiatives. Buildings need to be able to assess results to know what to continue, refine, and change in an ongoing effort to manage their energy and stay ahead of the game when it comes to reporting and displaying their energy performance.

Samantha Davidson, LEED AP BD+C, Fitwel Ambassador | Energy & Sustainability Engineer | Energy+Eco
Samantha is an Energy & Sustainability Engineer on ESD's Energy+Eco team. She leads the Energy & Eco team in ENERGY STAR certifications, benchmarking compliance, commissioning, LEED, and Fitwel certifications.

Marie Curatolo CEM, Project Manager | Energy+Eco
Marie is a Certified Energy Manager on ESD's Energy+Eco team. She leads projects in a suite of energy efficiency services including building optimization through Monitoring-Based Commissioning, Retro-Commissioning, and energy auditing to uncover energy conservation measures as part of a comprehensive energy and carbon management strategy.