The Commercial Real Estate Industry Gives Back
We all know the importance of giving back to those in need. However, during the recent economic downturn, people and businesses had to make some tough decisions regarding whether to donate, or to hold back.
Corporate giving and philanthropic support were sometimes the first to go. In my opinion, that's unfortunate.  When times are tough, companies should make it even more of a priority to donate — even small amounts — to charities, especially those that support basic human needs like food, water, clothing and shelter.
As someone who has been committed to philanthropy and volunteering, I'm proud that Chicago's commercial real estate industry has continued to offer strong support to its flagship cause, the Greater Chicago Food Depository ("Food Depository").  The Food Depository is a non-profit food distribution and training center that provides food for hungry people, while striving to end hunger in Chicago.
Through a network of more than 650 local food pantries, soup kitchens and shelters, the Food Depository annually distributes food to approximately 678,000 adults and children in Cook County. Almost 142,000 people rely on the Food Depository for meals each week, and nearly 37 percent of those served are children.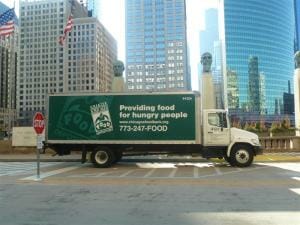 Food Depository truck picks up food donations from downtown office buildings
The Food Depository distributed a record 68 million pounds of nonperishable food and fresh produce, dairy products and meat, the equivalent of 139,000 meals every day, in the fiscal year ending June 30, 2011.
Each holiday season, many BOMA/Chicago building and affiliate members host a food drive, with all donations going directly to the Food Depository.  In 2010, some 90 BOMA/Chicago building members helped make the holiday season a little better for the less fortunate by collecting more than 18,000 pounds of food during the three-week food drive.
Chicago's CRE industry also organizes and supports the Food Depository's annual Commercial Real Estate Awards Dinner.  Industry leaders volunteer to chair and participate in the planning committee for the event, which draws about 1,500 Chicago CRE Professionals for a night of awards and networking.  All proceeds benefit the Greater Chicago Food Depository and last year, more than $800,000 was raised from this event.
The Food Depository has a tremendous volunteer program, anchored by their community food re-pack program, to support their efforts as well. It is a great non-financial way to give back, i.e. donate your time, as a company or organization and can help build team spirit and/or unity as well.
The CRE industry collectively supports the Food Depository, but many CRE professionals support their own causes as well.
Did your company maintain its philanthropic support during the downturn? Do you make it a priority to give back by donating your time and/or money to causes you feel passionately about, even when times are tough? What philanthropic organizations are you involved with? How do you choose?
I'd love to hear your thoughts.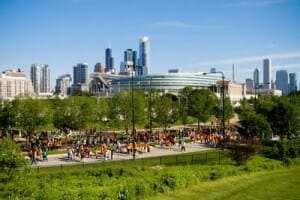 The Food Depository's 2011 Hunger Walk