BOMA/Chicago Foundation & Diversity Committee Host Second Annual High School Career Day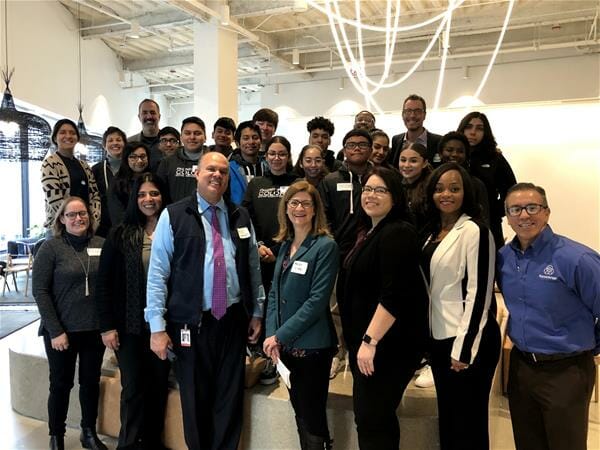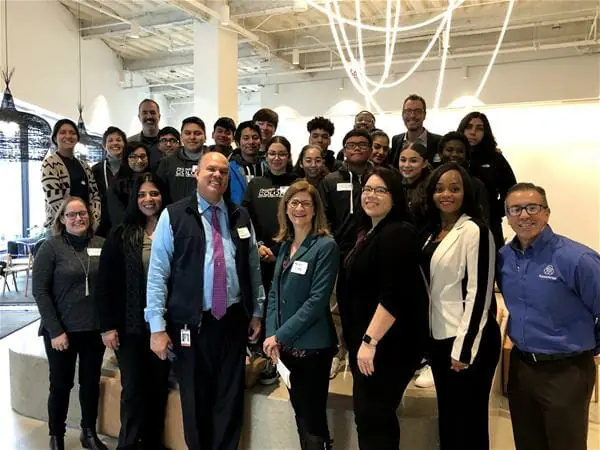 On March 8, 2019, the BOMA/Chicago Foundation and Diversity Committee hosted the second annual Career Day for high school sophomore students in the Pass With Flying Colors program. Pass With Flying Colors is a non-profit that hosts an 8-year program to prepare Chicago's underserved first-generation students for college and career success. The day included an overview of commercial real estate, building tours and an expert panel where seasoned professionals gave career and educational advice.
During the Career Day, 17 Pass With Flying Colors students split into four groups to tour four member buildings:
350 North Orleans, managed by EQ Office
311 South Wacker, managed by Zeller Realty Group
69 West Washington, managed by CBRE
515 North State, managed by JLL
Students then came back to the host building, 350 North Orleans, to get career advice from a panel of six passionate CRE experts:
Christy Domin, CBRE
Dan Earles, Earles Architects and Associates (EAA)
Freddy Flores, thyssenkrupp
Lily Leon, JLL
Jack O'Rourke, Able Services
Jeff Tigchelaar, M&J Wilkow
We would like to thank EQ Office for hosting the event and the Diversity Committee for planning such a successful and educational day. We also thank Zeller Realty Group for making a donation to the BOMA/Chicago Foundation to host this Career Day.
Visit our Facebook page to view photos of the Career Day.
Thank you to all of our Diversity Committee members who made this event possible:
Bridgette Battle, LJ Sheridan
Freddy Flores, thyssenkrupp
Lily Leon, JLL
Becky Miles, Piedmont Office Realty Trust
David Myles, CBRE
Gannon O'Brien, Zeller Realty Group
Marisol Olvera, EQ Office
Paul Rades, CBRE
Michael Ryan, Santosha Inc.
Jeff Tigchelaar, M&J Wilkow
Learn more about the BOMA/Chicago Foundation, our mission and the Diversity Committee initiatives by visiting our Foundation webpage.