Congratulations to the 2021 TOBY International Winners!
The commercial real estate industry honored 16 commercial properties with The Outstanding Building of the Year (TOBY) Award at the October 9 TOBY Gala that was part of the 2021 BOMA International Conference & Expo in Boston. This year marked the 35th anniversary of the TOBY awards.
The TOBY Awards are the commercial real estate industry's highest recognition honoring excellence in commercial building management and operations in specific categories of building size and type. Click here to review all of the International finalists.
We are so proud of our six BOMA/Chicago International TOBY nominees and are excited to congratulate the below three BOMA/Chicago buildings for winning the International TOBY Award!
2021 TOBY INTERNATIONAL WINNERS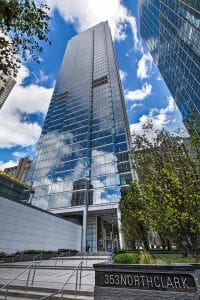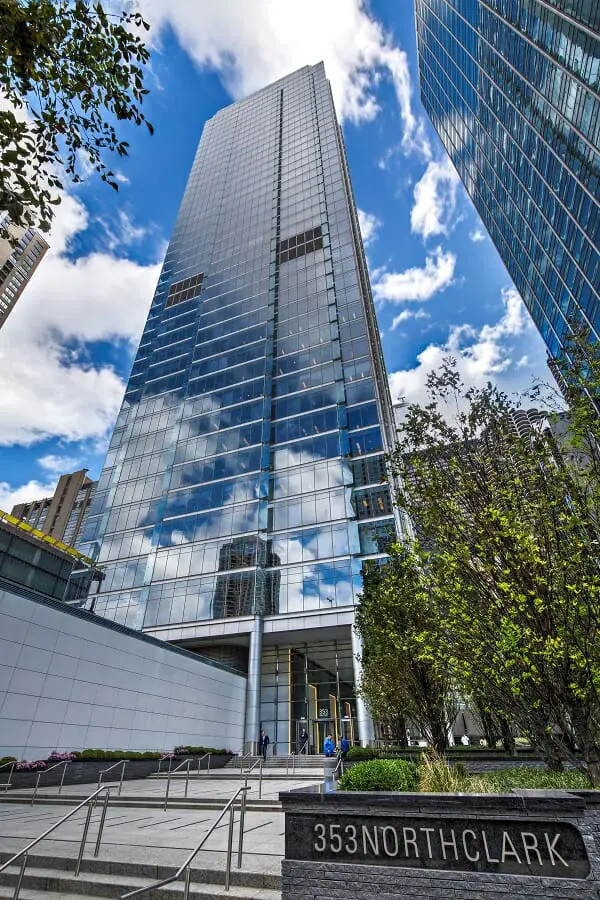 Earth Award
353 North Clark
Managed by CBRE
Owned by HART 353 North Clark
353 North Clark is a 1,184,258 square foot Class A property in River North. Certified LEED-CS Gold in 2009 and LEED-O+M Platinum in 2015, the building boasts 16,000 square feet of green roof space that harvests rainwater for use on exterior landscaping. Tenants are offered a bevy of green amenities including bike rooms, electric vehicle charging stations and a commuter shuttle program featuring hybrid buses. The building also houses two beehives on the third-floor roof; these beehives produced over 30 pounds of honey in 2020. And – 353 North Clark produced 1,019 pounds of organic compost last year through its vermi-composting program!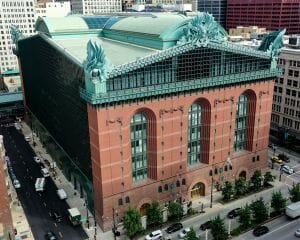 Public Assembly
Harold Washington Library Center
Managed by CBRE
Owned by City of Chicago
HWLC is the largest public library in the northern hemisphere and the second largest in the world. Located on the northern edge of Chicago's Printers Row neighborhood, the site footprint spans one city block, 11 stories tall, with superb access to transportation, education, recreation and entertainment. Five massive owls, long held symbols of the Keepers of Knowledge, look down from the top of the HWLC and are augmented with swirls of leaves and seed pods representing growth and wisdom. One Great Horned Owl atop the main entrance and four Barn Owls in each corner clutch an open book and papers in one talon and the other talon is ready to strike. The Harold Washington Library Center opened to the public on October 3, 1991 and is the Chicago Public Library "Mothership" of 81 library branches throughout Chicago.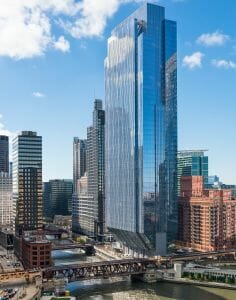 Over 1 Million Square Feet
150 North Riverside
Managed by CBRE Inc.
Owned by Riverside Investment & Development
150 North Riverside is a 54-story, multi-award-winning building that rises on the eastern edge of a two-acre site on the Chicago River's west bank. Built in 2017, the building is prominently located at the confluence of the three branches of the Chicago River. The building features 1,226,111 square feet of leasable office space, but due to a unique superstructure design, it only encompasses 25 percent of the lot. The remaining 75 percent of the project site contains a 1.5-acre public park, amphitheater, riverwalk and is less than one block away from one of Chicago's busiest commuter train stations. Tenants and visitors enter through a dramatic, 90-foot-high lobby enclosed by a glass-fin wall hung from the structure above; the tallest non-structurally supported, glass-only wall in the world! The lobby features art on a 150-foot-long curated multimedia wall that showcases the work of local and international digital artists across 89 LED blades. Sustainability is a priority for this Class A building, which features an expanded recycling and composting program, onsite beehives, green roof, and various protocols in place to reduce the building's carbon footprint.
2021 INTERNATIONAL TOBY FINALISTS 
Three other BOMA/Chicago buildings were eligible to receive the international TOBY award after winning regional TOBY awards in April 2021. Congrats to the below buildings for all of their hard work!
Corporate Facility: 400 South Jefferson, Managed by The RMR Group LLC and Owned by Office Properties Income Trust
Historical Building: Central Standard Building, Managed by JLL and Owned by Beacon Capital Partners
500,000 to 1 Million Square Feet: 150 North Michigan Avenue, Managed by CBRE, Inc. and Owned by CBRE Global Investors