Gold Circle Award Profile: Michael Moriarty, Building Engineer of the Year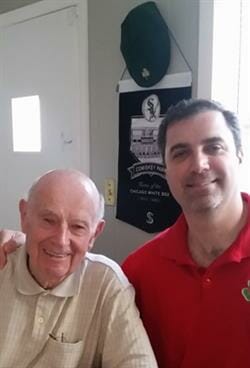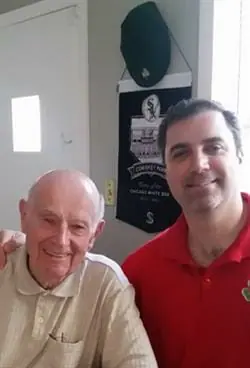 Michael Moriarty, Chief Engineer with CBRE at 353 North Clark, is the recipient of BOMA/Chicago's 2019 Building Engineer of the Year Award.
How did you get involved in the commercial real estate industry?
My Dad was an engineer and member of Local 399. He encouraged me to consider becoming an engineer. I began taking classes through Triton College at Local 399 Union Hall. In 1991 I began my apprenticeship at One North Franklin.  After completing my apprenticeship, I continued working at One North Franklin as an Engineer, Assistant Chief and then Chief Engineer until 2011.
What are some trends you're seeing in the commercial real estate industry that impact you the most?
Technology plays a part in everything we do now. Work orders, preventative maintenance, rounds, tenant interaction, communicating with coworkers, ordering supplies – and the list goes on. I find myself using apps for more and more things every day. As building operators, we need to stay aware of the changes in our industry and prepare aging buildings to compete with the technology being offered at new buildings. Individual building systems like management office, engineering, security, elevators, tenants, and tenant amenities will soon be integrated together on a building's own network. Tenants and employees will be able to navigate everything in the building through an app on their phone or tablet. New buildings are already exploring the first generation of this new way. Older buildings are installing infrastructure to support this technology in the near future. Not only is technology impacting on industry, it's amazing to think about how our buildings will be operating in 5 or 10 years.
What tenant issues take up most of your time and how do you handle them?
Tenant improvement projects are ongoing tasks. Projects can vary from new tenants building out their space prior to their occupancy or an existing tenant improving or expanding their space. These projects often begin in the early stages with the leasing team or an existing tenant's facility team. I will work with these teams to assist them with engaging architects and contractors to create a scope of work and a budget. The buildout process will consist of drawing review, contractor and architect walkthroughs, weekly meetings, punch list and move in. This task can sometimes seem time consuming, but it is a great way to create a relationship with a new tenant or build a stronger one with an existing tenant!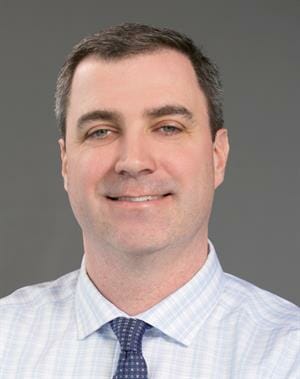 What tools and technology do you use the most to control energy costs and improve energy efficiency in your building?
We are currently participating in Comed's MBCx program. Through MBCx we have been able to identify over ten measures to operate our building more efficiently. Comed has already verified over 1.4 million KWH saving as a result of these measures. We recently have renewed our contract with our vendor, and we are currently working on new measures.
Tell us about some of the systems in your building that are new, unique or cutting edge and how they help you operate your building.
353 North Clark has a 15,000-gallon water detention tank located on our lower level.  This tank collects rainwater from our roof drains. This water is used to irrigate our landscape beds and trees located around our building and on our plaza. The system consists of a tank, programmable clock, ten zone valves, and a pump. We recently added a meter to track how many gallons of rainwater we are using.
Were you involved in the TOBY process for your building? What advice would you give to other engineers involved in a TOBY application now or in the future?
I have participated in the TOBY process at One North Franklin and 353 N. Clark. One North Franklin was a past winner of the TOBY award and 353 N. Clark has been a finalist twice. I encourage all building teams to consider trying to achieve TOBY status. The process is extremely challenging and very rewarding even if you are not successful. TOBY is a great way for you and your team to display the hard work and great achievements you have done. The process will also allow you to improve or add more detail to accomplishments you have already achieved.

Do you participate in BOMA/Chicago's Building Lighting Program? What's involved with lighting your building and what's your favorite cause?
353 North Clark participates in the Lighting Program. We even recently installed a programmable outside lighting system. We have the colors for each cause programmed in for that month. Our exterior plaza wall, railings and pole lights will illuminate the colors. I don't have one favorite cause. I really think the entire program is a great program that promotes awareness to many great causes.
What was the best advice you were ever given?
The Best advice I've been given is "You only get out of life what you put into it."
What are some of your interests and hobbies outside of work?
I enjoy family activities with my wife and children. Coaching my kids in sports or helping at their school with events and fundraisers is always very fulfilling!  We also enjoy a nice weekend away or attending a White Sox game.
Do you know someone who is the best of the best in the industry? 2020 Gold Circle Award nominations are open from September 16 through October 25, 2019. Learn more about the Gold Circle Awards nomination process.