Gold Circle Award Profile: Nick Picerno, Property Management Professional of the Year
Nick Picerno, with JLL at 200 West Jackson, is the recipient of BOMA/Chicago's 2019 Property Management Professional of the Year Award.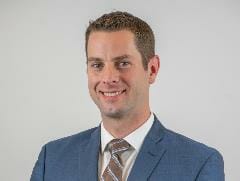 How did you get involved in the commercial real estate industry?
I started as a leasing agent at an apartment building right out of college, and from there moved on into an Assistant Property Manager role out in Charlotte, NC. I was able to make a lateral shift over to a commercial real estate company as an assistant property manager. From there I made the move back to Chicago with JLL and have been with them for the past 6 years.
Tell us about one of your recent accomplishments at your building.
200 West Jackson recently went through an entire redevelopment, building out not only a new top floor amenity center with operable windows, state of the art gym and conference center, but also a brand-new lobby, and building out almost 80% of the building rentable square feet into new tenant spaces. In the past 2 years the building has gone from 50% occupied to over 90%.
What are some challenges you believe commercial building property managers will need to address in the years ahead?
I believe that two major items will need to be addressed in the years ahead: Taxes and tenant experience management. With the ever-changing outlooks on property taxes in Chicago, I think owners, managers and tenants will all be affected in some way. Operational costs will end up rising, which may cause some companies to rethink expanding business in Chicago, or relocating. Managers will need to find a way to offset these RE costs, which will mean leaner operational budgets.
The other challenge will be tenant experience management.  Tenants are increasingly looking for a higher level of amenity activation, where the buildings that they work in are a one stop shop for everything that they need. Fitness centers, lounges and conference centers are no longer enough. Food vendors, baristas, bars, bowling alleys, golf simulators, etc, are now becoming what is the expected norm. Managers will need to find a way to incorporate programs like these in their buildings while still achieving the financial goals of their owners.
What is your favorite BOMA/Chicago event and why?
This may be biased to say (being the Chairman of the committee) but I think any of the emerging leader events are my favorite. These events allow not only manager and assistant managers to network, but also admin level employees. Admin level employees do not always have the outlets to network with their peers throughout the industry and the Emerging Leader events gives them the exposure to vendors, executives and experts in the industry. I believe that this is one of the most important steps in furthering one's career and creating one's own "brand".
What piece of advice would you share with our Emerging Leaders?
Strive to become an expert in whatever you do. The CRE industry is ever changing and evolving and that means that in order to stand out from your peers, you need to stay up to date with latest technologies, trends, and the economy. Get exposure to different aspects in the industry such as brokerage, construction, and asset management. Work to become the person that people come to for answers or advice. Talk to anybody and everybody about anything and everything, you'll be surprised how long-lasting professional relationships are sparked by random conversations.
What are some of the CRE trends you're seeing (or implementing) that interest you the most?
The shift in adopting building programs that focused on the operations and sustainability of buildings to programs that focus on tenant's health and wellbeing. I find programs like the WELL Certification being implemented in buildings very interesting, especially with the emphasis on quality of life in the work place. I think going forward we will see more of these programs being realized in the industry.
What is your pet peeve?
People who stand on the moving walkways at the airport. (Not sure if you meant in the industry or not…I chose not)
Do you know someone who is the best of the best in the industry? 2020 Gold Circle Award nominations are open from September 16 through October 25, 2019. Learn more about the Gold Circle Awards nomination process.