Gold Circle Awards Profile: 2018 Building Engineer of the Year Sean Casey
Sean Casey, Chief Engineer with JLL at 71 South Wacker, was named BOMA/Chicago's 2018 Building Engineer of the Year.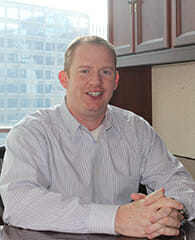 How did you get your start in the commercial real estate industry?
I started out as an Apprentice Engineer in 1992 at 309 W. Washington for Equity Office and worked in the hotel industry for ten years as a Chief Engineer. Ten years ago I returned to a BOMA/Chicago building as a Chief Engineer.
What was the best advice you were ever given?
The best advice I was given was to never say "no" when approached with a new idea or opportunity. You can never go back and change your answer because more than likely that opportunity has passed.
What is your "pet peeve" in the work place?
I would say not embracing new technologies and not being open to change. These new technologies need to be proven before implementation but you must be open to it.
What tenant issues take up most of your time and how do you handle them?
We have been going through quite a bit of tenant construction at 71 South Wacker the last few years along with building "ready now" suites, both of which have taken up a large portion of my day.
What are some trends you're seeing in the commercial real estate industry that interest/impact you the most?
Amenity floors are now a part of all the buildings. New and old buildings are all utilizing obscure spaces to attract tenants. What once was a dead space has been transformed into a gym, lounge, or game room.
You have led major energy efficiency initiatives generating hundreds of thousands of dollars in savings. What were some of the lessons learned with these projects and do you have advice to share for others looking for ways to reduce energy costs?
Despite the implementation of a number of successful energy efficiency projects, 71 South Wacker was opened in 2004/2005, and it still has some areas where we can reduce energy usage. We're fortunate because our owner will implement a measure that can have a ten-year payback, which gives us opportunities.
I would suggest always looking at what engineers and property management teams are doing in other buildings. Don't hesitate to borrow an idea from another building if it makes sense in your own, and learn from others' challenges or mistakes.
Your building has won not just one, but two international TOBY awards. What advice would you give to other chief engineers/engineers involved in a TOBY application now or in the future?
I would say that working together with the management team long before the initial TOBY application is due makes things a lot easier. We have policies in place that make tracking an easy process. Partnering with trusted BOMA/Chicago vendors that have a stake in the building is also necessary.
You're an active participant in Retrofit Chicago's Commercial Building Initiative and the City of Chicago Green Office Challenge. How have you benefited from these programs?
Retrofit Chicago and the Green Office Challenge provide opportunities for Chief Engineers to get together and share ideas on what has worked, what hasn't, and to tour their facilities. Not every measure has the payback that was calculated, but nothing ventured, nothing gained.
You're a volunteer with Habitat for Humanity. How did you connect with Habitat and why is it important to you?
I was introduced to Habitat for Humanity at the JLL Engineer's conference. It was a great opportunity to work with JLL employees from around the world to provide a home for a family. The family was there with us and to see how happy they were was special. Each year at the conference, we assist with different charities and it is very fulfilling.
What are some of your other interests and hobbies outside of work?
I coach my two son's hockey teams, play on a men's league team, and enjoy the outdoors with my family.
____________________________
2019 Gold Circle Award nominations are open September 17 through October 26, 2018. Click here for more information.