How BOMA 2017 Can Change Your Building's Rentable Square Footage (RSF)
By Bob Ladner, John Kuczura, Veronica Avila, Meredith Bass at SDI Presence
Last week, the Building Owners and Managers Association (BOMA) International released its new office measurement standard: BOMA 2017 For Office Buildings: Standard Methods of Measurement (ANSI/BOMA Z65.1-2017). Last updated in 2010, this BOMA methodology is considered the indisputable standard for measuring buildings' rentable square footage (RSF) in the United States, Canada and internationally.
The BOMA 2017 standard has both increased the opportunity to capture Rentable Area, such as balconies and finished rooftop terraces, to better align with modern building design fueled by tenant demands.  The standard has eliminated and clarified ambiguities, such as the concept of Public Pedestrian Thoroughfare (PPT) and the proration of areas outside of actual tenant premises (found in the previous standards).  Additionally, the lowest level of all Vertical Service and Circulation Area, such as Stairwells and Elevators, is now included as Building Service Area (BSA) in keeping with the concept of floored area counting as Rentable Area.
Below is a representation of the major changes impacting Rentable Area under BOMA 2017.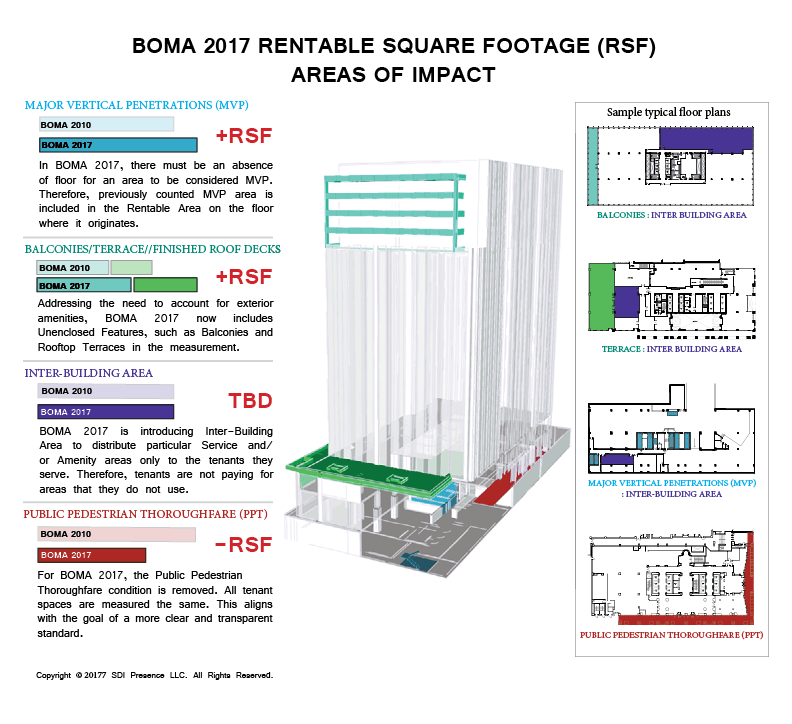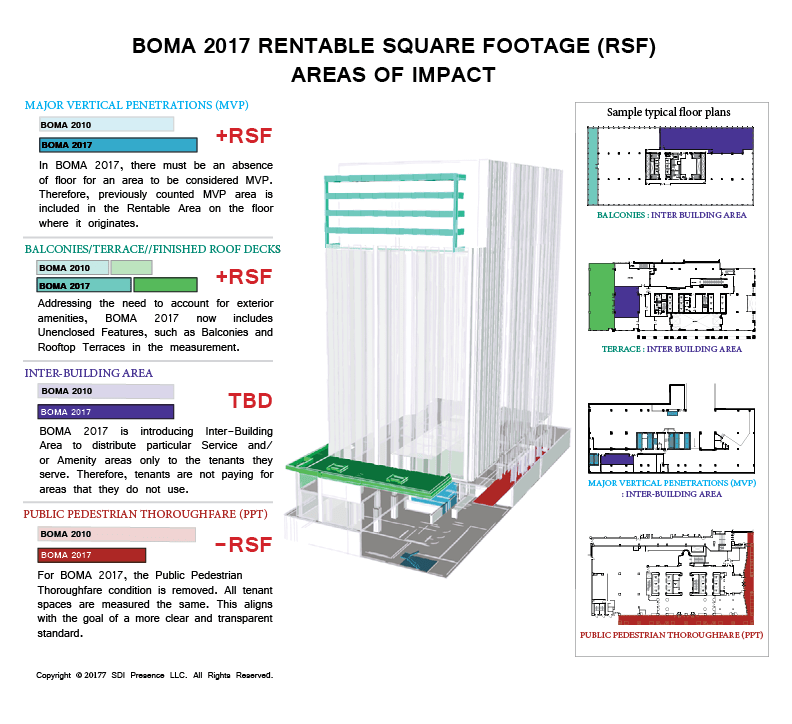 BOMA 2017 has greatly elaborated on definitions and details, both in text and graphics, regarding the disclosure of area allocations.  The new concept of Tenant Ancillary Area clearly delineates the area of actual tenant premises from areas outside the tenant premises, such as Extended Circulation (EC) and door set-backs and balconies, which are prorated to a tenant.  This will help to reduce the discrepancies regarding the usable and rentable areas of proposed tenant premises often encountered between tenant architects/brokers and building reps under the previous standards.  Similarly, the Inter-Building Area concept clearly identifies portions of an Office Building –  such as Conference Centers, Fitness Centers and Tenant Lounges – that may benefit single Occupants and Occupants on a given floor, in an Office Building, and across multi-building complexes.
With the accounting of every conceivable portion of a property, BOMA 2017 makes for a much more involved calculation process, but results in greater transparency for tenants, leasing agents and ownership. If you are preparing to buy or sell a property, or lease several contiguous floors to a single tenant, you may benefit from an updated measurement.
For 20 years, SDI has specialized in helping commercial real estate portfolio owners and property managers maximize the revenue generation potential of their properties. Trusted by the nation's top real estate developers, owners, and managers, SDI has assessed over 200M square footage of properties across the United States, adding over $285M in potential annual revenue for our clients.