ENERGY STAR Scores for Most Office Buildings Will Fall in 2018
By Dan Bailey, Sieben Energy Associates
ENERGY STAR scores for most if not all office buildings will decrease as early as August 2018 due to recalibration. Current scores for office buildings will drop by an average of 8 points. The U.S. EPA broke this news at the ENERGY STAR Commercial Buildings Partner Meeting that was convened in Chicago in October 2017.
So if your building's ENERGY STAR score is currently a 78, it could drop to 70 or below, preventing you from maintaining ENERGY STAR certification, which requires a minimum score of 75.
Why will the ENERGY STAR scores fall? The short answer is that buildings overall are becoming more energy-efficient, and the EPA needs to recalibrate scores to account for these changes. Specifically:
For a particular building type, an ENERGY STAR score of 50 is supposed to be calibrated to median energy use.
Current ENERGY STAR scores for office buildings (as well as hotels, retail stores, K-12 schools, and warehouses) are based on data from the 2003 Commercial Buildings Energy Consumption Survey (CBECS).
The EPA is in the process of updating all ENERGY STAR scores based on newer energy performance data from the 2012 CBECS, the most recent available.
The data show that office buildings are more energy-efficient in 2012 than they were in 2003. Improved median energy performance means that a given building will need to use even less energy to maintain a certain ENERGY STAR score.
Since the first CBECS was conducted in 1979, average energy use intensity for all commercial buildings has generally fallen over three decades. While average natural gas use has decreased significantly, average electricity use has increased slightly. The graph below shows that total average energy consumption in the 2012 CBECS was about 80 kBtu per square foot, an intensity equaled previously in 1992 but not observed during the past 20 years.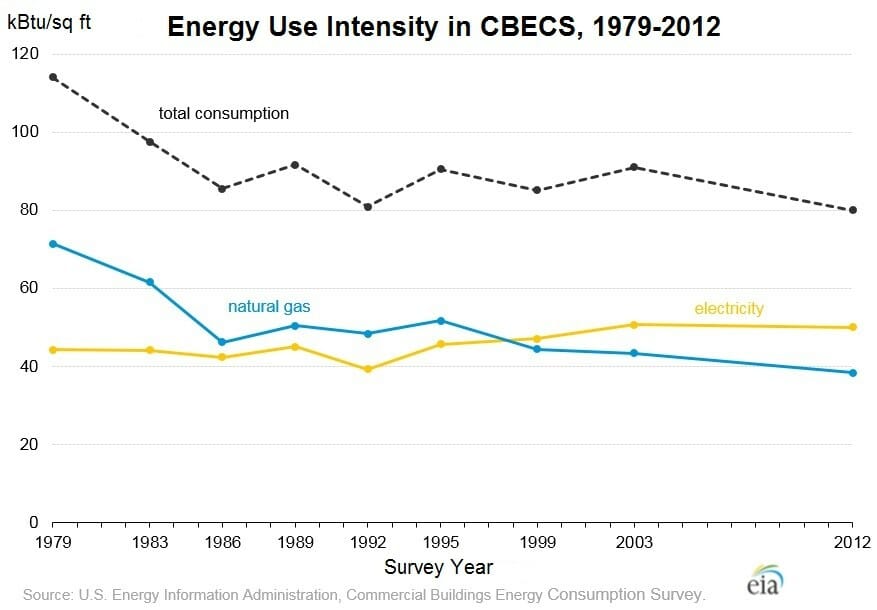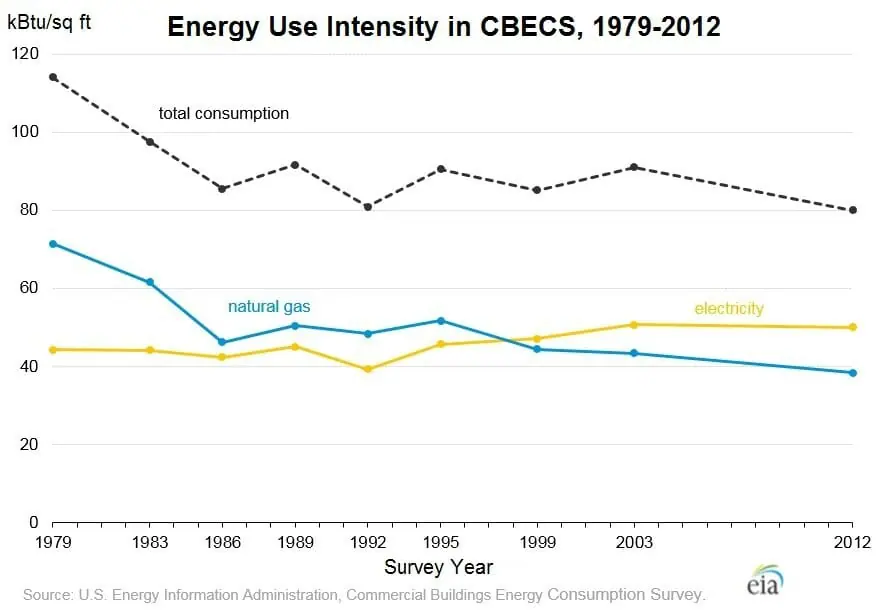 The EPA is more than halfway through a 24-month process to develop new scoring models using the 2012 CBECS data. The tentative release date for the new scores is August 2018.
Many other commercial building types will also be affected by recalibration. Scores will be adjusted for retail stores, K-12 schools, bank branches, medical offices, hotels, courthouses, supermarkets, distribution centers, and worship facilities. All building types that are not grayed out in the image at left are included in CBECS and so their scores will change.
While the scores for office buildings are expected to decrease by an average of 8 points, and retail stores and supermarkets will see the same decline, the average drop for K-12 schools is 12 points.
The plot of current ENERGY STAR scores for K-12 schools below shows how scores are skewed heavily towards the higher end of the scale, with nearly 25% scoring between 81-90 and nearly 40% scoring 91 or greater. The plot of updated ENERGY STAR scores better resembles a bell curve, with the largest percentage of scores between 51-60, and only 10% scoring 91 or greater.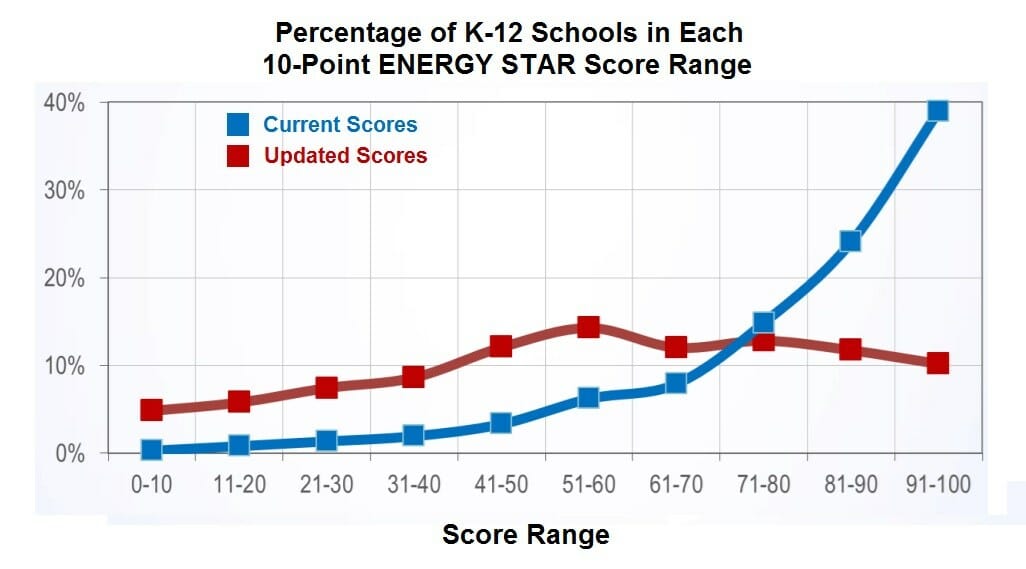 Energy performance data for some commercial building types, such as hospitals, data centers, and multi-family housing, is drawn from other national building surveys, not CBECS. Scores for these few building types will not be affected by the August 2018 recalibration.
Building owners and managers who require certain scores to achieve LEED certification or who have scores close to the 75 threshold for ENERGY STAR certification should attempt to certify their eligible buildings for 2018 no later than July 2018.
Sieben Energy Associates (SEA) is a recognized leader in energy efficiency and energy management for the built environment. Since 1990 SEA has enhanced the performance of thousands of buildings. SEA specializes in finding opportunities to driving cost savings by make existing infrastructure work smarter for building owners and managers. Today SEA delivers retro-commissioning, monitoring-based commissioning, energy audits and assessments, energy purchasing, energy benchmarking, and other energy management services. Explore our services and learn why we think about energy every day. Dan Bailey is the Director of Energy Consulting.