Five Questions with Derrick Johnson: Industry Executive and BOMA/Chicago Board Member
By BOMA/Chicago
BOMA/Chicago is proud to represent the passionate and diversely talented commercial real estate professionals of Chicago. Our membership includes 260 commercial office, institutional and public buildings along with 170 companies that provide services to support the operational excellence of those buildings.
Both our Affiliate and Building Members act as a sounding board for us to provide the best tools and information necessary to confront the challenges and opportunities of our ever-changing industry. We value the knowledge, insights and personalities of each member, which is why we have created this "Five Questions With" blog series – to highlight the wide-ranging expertise of our members, their perspectives on industry trends and what piques their interest both inside and outside of the office.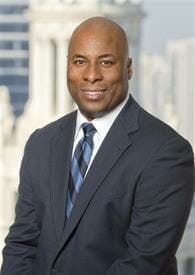 Derrick Johnson, Vice President at Zeller Realty Group, also sits on the BOMA/Chicago Board of Directors and Labor Committee.
In this edition, you will gain a more intimate glance at Derrick Johnson, Vice President at Zeller Realty Group. A 20-year veteran of the high-profile downtown Chicago real estate industry, Johnson is the Property Management team leader for Zeller's Chicago assets, which total over one million square feet.  Johnson is responsible for the physical operation, financial performance, tenant retention, development and growth of multiple properties on Michigan Avenue.  After earning his B.S. in Finance from the University of Illinois at Urbana-Champaign, Johnson went on to earn his Real Property Administrator (RPA) designation and became both an Illinois Real Estate Broker and a LEED Accredited Professional. He is the newest member of BOMA/Chicago's Board of Directors and he sits on the BOMA/Chicago Labor Committee and on The Magnificent Mile Association Project Review Committee.
Get to know more about Derrick through the below Q&A:
Did you immediately pursue a real estate job when you first graduated college?
My first position was not in real estate. I graduated from the University of Illinois with a B.S. in Finance during a recession that most have called the worst since the Great Depression (or at least until our most recent economic downturn).  After graduation, I had to work extremely hard to get a Customer Service position at Citibank, as I thought this would be the best use of my education. Working at Citibank was fun and educational, but as you can see, I did not ultimately stay within that field.
What caused you to cross over into the world of commercial real estate?
I lucked (and fell) into property management as most property managers do.  After about nine months at Citibank, I was able to start interviewing internally for other positions. During this same time, a friend of mine (whom I will forever be grateful) told me about an entry level management position at Miglin-Beitler Management.  On the same day, December 7, 1992, I received offers for both a position at Citibank as a financial analyst and a position at Miglin-Beitler as an Assistant Property Manager.  I accepted the lower paying real estate position, as I believed that it would give me more growth opportunities and diverse responsibilities. And I can now say that I definitely made the right choice!
At what point in your career did you take your RPA classes? Why do you believe earning this designation is valuable?
At the close of my first annual review at Miglin-Beitler, I asked the manager what I could do to move up the ladder and grow in my position. His immediate response was that I should earn an RPA designation.  The RPA demonstrates that you are dedicated to making property management a career and that you are interested in learning all of the intricacies of this field.  Earning an RPA also shows that you are persistent because you must go to class after a long workday and put in hours to study and prepare for exams.
What insights have you gained by sitting on BOMA/Chicago's Labor Committee?
The Labor Committee negotiates the agreements for a property owner's greatest expenses (engineering, security and janitorial labor). I felt compelled to take on the big responsibilities that come with negotiating with these three unions.  My ability to be directly involved in the labor process – instead of on the sidelines complaining about the results – was the reason why I accepted BOMA/Chicago's invitation to join the Committee. BOMA/Chicago and the unions are stakeholders in our industry and my involvement has taught me that a good negotiation is one where both sides feel that they have won. The level of service that the tenants in our buildings receive is dependent on a mutually beneficial relationship between BOMA/Chicago and the three unions that we negotiate with directly.
Can you tell us something that BOMA/Chicago members may not know about you?
I have a six year old son and at this point in my life, I tend to adopt whatever skills and activities pique his interest. Please wish me luck, as right now, my son has chosen to build a solar car for his first grade science project!
Special thanks to Derrick for participating in our first "Five Questions With" blog.  Let us know what you think of this idea as a blog series. Are there other industry members you would like to learn more about?