By the BOMA/Chicago Emerging Leaders Subcommittee
What do open seating workspaces, Zen rooms, fully loaded kitchens, outdoor decks, Lego conference tables and open bars have in common?
All are located in downtown Chicago office spaces and are part of a technology-driven trend that addresses the changing needs of today's office environment.  The transformation of traditional office spaces into collaborative, technology-savvy environments also directly affects your job responsibilities and the future of the commercial real estate industry.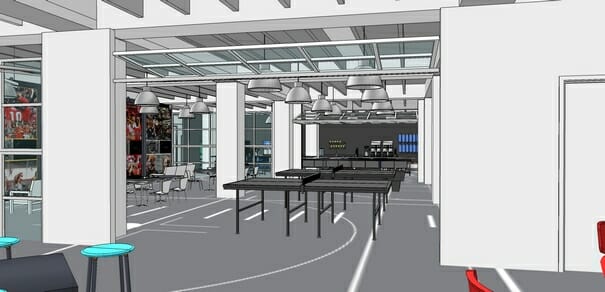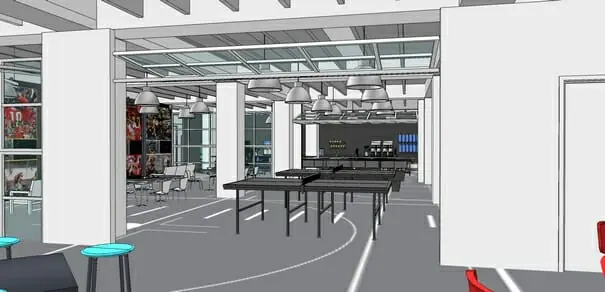 Moto Mobility's rendering of a planned recreation area.
Throughout this past year, we have seen this trend evolve and become more popular. Offices are focusing on open floor plans, a fairly inexpensive workspace layout that is meant to promote collaboration and smooth out hierarchies of traditional offices. One recent example of this trend is Motorola Mobility, a corporation owned by Google. In October 2013, Motorola released renderings of the new office space it plans to construct at the Merchandise Mart, which includes a recreation area, multi-purpose rooms, a rooftop deck and other unique amenities.
Realizing that this is a trend we cannot ignore, BOMA/Chicago held an Emerging Leader Panel last week where four industry leaders and experts discussed the reasons behind this new trend how you can best prepare yourself and your office spaces for tenants who stray away from the office norm.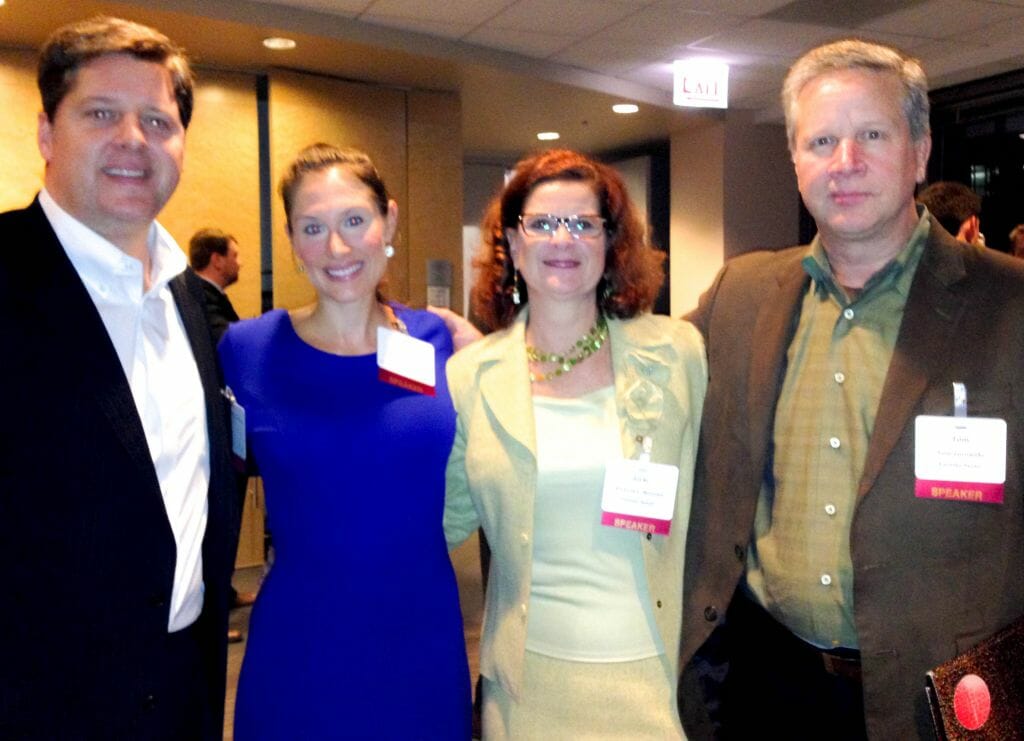 From left to right: Jack O'Brien, Helee Hillman, Vicki Noonan and Tom Zurowski
Vicki Noonan, Managing Director and Director of Leasing-Midwest Region for Tishman Speyer, moderated the panel, which was comprised of a leasing agent, Jack O'Brien, EVP of Telos Group LLC, a leader of LEED certification, Helee Hillman, Director at Goby, LLC, and a corporate interior architect, Tom Zurowski, Principal at Eastlake Studio.
Throughout the panel, three major themes kept reoccurring about the changes in traditional office spaces:
1. Office spaces are moving from "me" spaces to "we" spaces. At many downtown companies, the corner office is becoming less of a status symbol. Company executives are sitting amongst all levels of employees in open spaces as a way to encourage constant collaboration. Tactics to encourage collaboration range from communal, open space seating to bars to outside patios. Architects and property managers therefore need to recreate office spaces that were once dominated by walls along with finding ways to manage the acoustics of these open spaces.
2. Technology brings us together and allows us to be mobile and social during our work hours. A few years ago, some of us in the industry were worried that technological changes would end the era of office buildings. But now, it is readily clear that we will always have a need for office space and that offices will simply adapt to the times. Technological innovations do not isolate working professionals, but instead connect workers with the world and their own peers within a communal space. Many companies are scrapping desktop computers for mobile laptops that workers can carry and use anywhere within the office. The on-the-move nature of the office now makes it undeniable that technology and wifi access are major tools of the workforce. In fact, Helee Hillman quoted one of her clients as stating that he "only needs two things at the office – great coffee and great wifi."
3. Chicago attracts a young workforce who sees the importance of "going green." LEED certification draws the attention of young decision makers who want to leave a large footprint in terms of their work, not their energy usage. Plus, many LEED-related elements (such as daylight harvesting, which brings more daylight into a space and green roofs/patios with natural vegetation, which make for "cool" and relaxing hangouts) are appealing to the young workers that many companies are seeking to hire. To attract these young, ideal workers, companies want to provide ideal spaces with ideal forms of energy.
The tenant needs of yesterday are no longer the tenant needs of tomorrow. So how can you prepare for and adopt this new trend? The first step is becoming educated about the changing demands of companies. Next, your property management team should be well-versed in answering questions about how you can provide communal office spaces for potential tenants. This may mean consulting with architects on room layouts and acoustics, as communal workspaces are not as simple as just tearing down walls and sticking in bench tables. You have to woo contemporary tenants to your space with educated answers and a specific plan of how you can create an idyllic Zen room, where you would build a sparkling kitchen and how your wifi is stronger than steel.
And once you have your elevator speech about communal workspaces down to a T, take a trip to the Zen room yourself so that you can prepare yourself for the new generation of tenants.
Has your building created communal workspaces for tenants? Leave us a comment below and share the story of how you and your team helped to create a non-traditional workspace.