2022 TOBY Application Season: September 22 Deadline & Important Information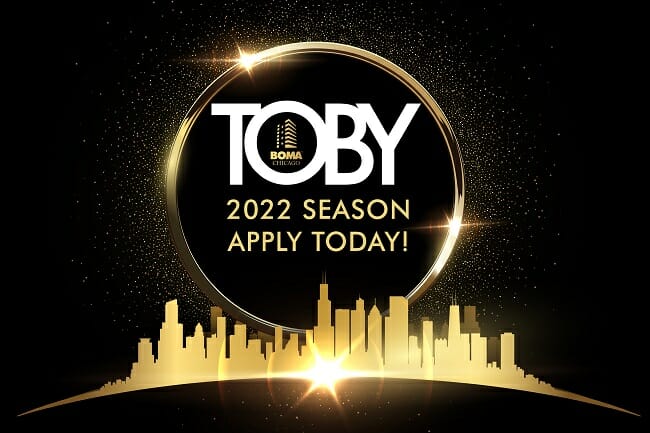 TOBY Application Season Open Now through September 22
Since 2010, 17 Chicago buildings have won the International TOBY Award. In July 2020, four BOMA/Chicago buildings brought home an International TOBY Award. We also have six buildings who will compete in the October 2021 International competition. Our Chicago buildings are truly the best of the best who continue to win at the International level. Your building is TOBY-ready and we encourage you to apply for the 2022 season.
Is your building our next winner? Will your building take home this prestigious award in 2022?
Call for applications! The 2022 local TOBY award application season is now open. Please review the 2022 Entry Requirements (listed below), which outline the 15 different categories in which you may apply (you can only apply in one of the 15 categories).
Applications must be submitted on the online portal and will be due by 5PM CST on September 22.
To win the International TOBY award, you must first apply and win on the local and regional levels. You are more TOBY-ready than you think! And that is why we encourage you to apply for the local 2022 TOBY. This is your chance to showcase your expertise and excellence in property management.
What are the 2022 TOBY Categories?
In 2022, the Public Assembly and Retail categories will not be offered. If you planned to apply in either of these categories, please contact us. You will need to choose another category for 2022. The categories you can apply for in 2022 are:
Under 100,000 Square Feet
100,000 to 249,999 Square Feet
250,000 to 499,999 Square Feet
500,000 to 1 Million Square Feet
Over 1 Million Square Feet
Suburban Office Park (Low-Rise)
Suburban Office Park (High-Rise)
Mixed-Use Buildings
Earth
Renovated Buildings
Corporate Facility
Historical Buildings
Medical Office Buildings
Industrial Buildings
How can I get started and apply for the 2022 TOBY?
Please email Jaclynne Madden by August 6 to confirm the (1) Building you plan to enter for the TOBY Award and (2) Category the building will enter.
Please read through the following documents if you are interested in applying or will apply for a 2022 local TOBY award:
2022 TOBY Application Process & Guidelines for instructions on applying, using the online portal and all important deadlines.
TOBY FAQs and Best Practices featuring advice from seasoned TOBY judges and previous winners. This is a must read and full of excellent advice!
The 2022 TOBY Entry Requirements for the category in which you will apply. Within these entry requirements, you will find all application information including word count, written sections, attachments and the required criteria that your building must meet. This year, the Entry Requirements are split up into separate documents.
2022 Entry Requirements for All Office (Includes: Square Feet Categories, Historical Building, Corporate Facility, Medical Office & Suburban)
How can our team prepare for the TOBY inspection and when will inspections be held?
Inspections will be held in-person at your building between October 11 and November 12. You will be assigned your inspection date in early October, giving you at least two weekends to prepare. Once you begin the application process, we will communicate more detailed information about the inspections.
What are the TOBY fees and how do I officially register my building for the 2022 season?
To enter the local TOBY awards competition, you must first pay the $300 entry fee directly to BOMA/Chicago. To pay this fee (via credit card or invoice), please log into the BOMA/Chicago website and then click here. You must pay the $300 fee to BOMA/Chicago before you submit your application.
How can I learn more about the TOBY program and what is involved?
We encourage you to watch the three below webinars about the TOBY program. In these webinars, you will hear from TOBY judges, applicants and winners. Best practices regarding the written applications and inspections are discussed in these webinars.
Have questions?
If you have any TOBY questions, please contact Jaclynne Madden, Director of Education, at jmadden@bomachicago.org or (312) 870-9608.