Congratulations to the 2022 TOBY International Winners!
Congratulations to Our Two TOBY International Winners!
The commercial real estate industry honored 14 commercial properties with The Outstanding Building of the Year (TOBY) Award at the June 28 TOBY Gala that was part of the 2022 BOMA International Conference & Expo in Nashville, TN. This year marked the 36th anniversary of the TOBY awards.
The TOBY Awards are the commercial real estate industry's highest recognition honoring excellence in commercial building management and operations in specific categories of building size and type. Click here to review all of the International finalists.
We are so proud of our five BOMA/Chicago International TOBY finalists and are excited to congratulate the below two buildings for winning the International TOBY Award!
2022 TOBY International Winners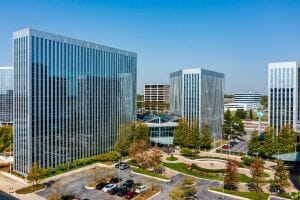 Renovated Building
Presidents Plaza
Managed by Glenstar
Owned by Glenstar & Angelo Gordon & Co.
Presidents Plaza offers a rare combination of a suburban setting with a Chicago address. The property is located minutes from O'Hare International Airport and steps from the CTA Blue Line providing easy connectivity to downtown. This 834,893 square foot office building underwent $20 million transformation in 2019, which included a complete renovation of lobbies and common areas, a new health club run by the upscale fitness brand Midtown Fitness, an onsite café and the addition of a 12,000 SF indoor/outdoor vintage-inspired tenant lounge. Presidents Plaza's Energy Star and LEED Gold certifications reflect its dedication to sustainability. At Presidents Plaza we believe in building communities to create a better work environment and thus helping our tenants recruit and retail top talent. We do this through the Glenstar Connect program, an industry-leading tenant experience program that hosts multiple events per week such as social gatherings, learning opportunities, health and wellness activities and ways to give back to the community. Visit https://presidentsplaza.com for more information.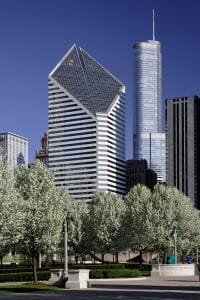 500,000 to 1 Million Square Feet
150 N. Michigan
Managed by CBRE, Inc.
Owned by CBRE Investment Management
150 North Michigan is a 41-story, Class A office tower located in the heart of Chicago's East Loop Business District. The 654,000 square foot tower overlooking Millennium Park and Lake Michigan is one of the most enduring landmarks along the Chicago skyline. The building's diamond face, which is actually two offset triangles, supports various charities and other initiatives by lighting up at night, at times with various colors, providing the distinctive look that makes it unique within Chicago's nighttime skyline.
150 North Michigan has received various certifications and awards over the last year, including the BOMA 360 Designation, the WELL Health-Safety Rating, the IREM Sustainability Designation, and most recently the Kingsley Excellence Award for Tenant Satisfaction. This on top of its existing LEED Gold Certification makes 150 North Michigan a leader among assets within CBRE Investment Management's global portfolio. Visit www.150northmichigan.com for more information.
2022 TOBY International Finalists
Three other BOMA/Chicago buildings were eligible to receive the International TOBY award after winning the Regional TOBY award in April 2022. Congrats to the below buildings for all of their hard work!
Corporate Facility: 400 South Jefferson, Managed by The RMR Group LLC and Owned by SIR Chicago, LLC
Historical Building: The Old Post Office, Managed by JLL and Owned by 601W Companies
250,000 to 499,999 Square Feet: Fulton West, Managed by CBRE, Inc. and Owned by Commerz Real, AG