Congratulations to the 2022 BOMA/Chicago Local TOBY Winners!
At the February 17 TOBY Gold Circle Awards Luncheon, BOMA/Chicago honored local buildings through the TOBY Awards, which recognize excellence in office building management. This year, 10 TOBY award finalists competed in five categories based on building size and facility type. They were judged on tenant relations initiatives, commitment to environmental sustainability, emergency preparedness, budgeting, work order systems, security standards, staff experience, continuing education opportunities and more. We congratulate the below five buildings for winning the local TOBY Award!
TOBY Award winners will be invited to participate in the North Central Regional TOBY competition, where they will compete against local TOBY winners from cities in Illinois, Indiana, Kentucky, Michigan and Ohio. Regional winners will then compete for the BOMA International TOBY Awards, one of the highest honors in the commercial real estate industry.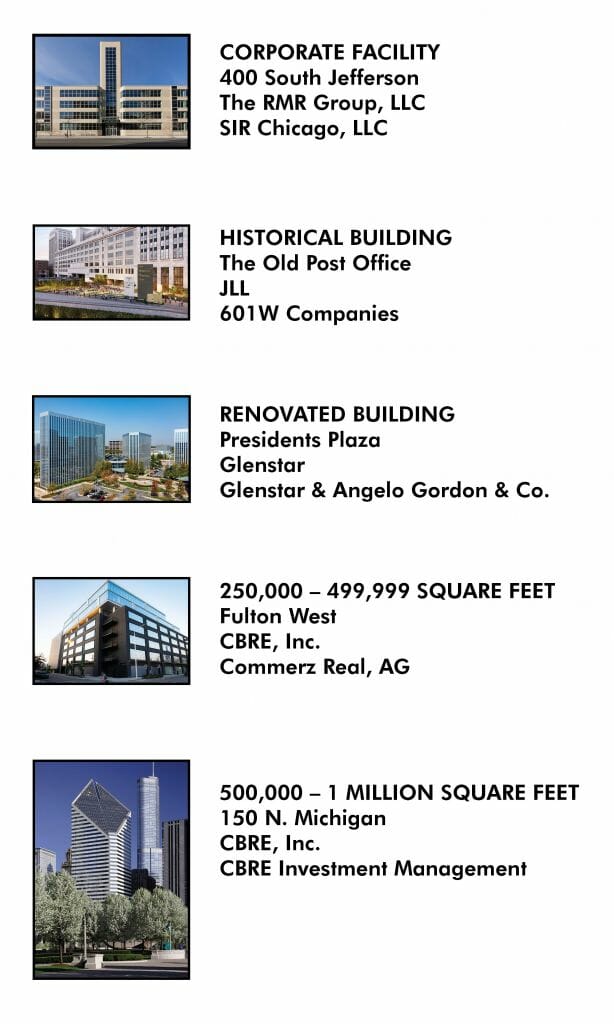 Corporate Facility: 400 South Jefferson, Managed by The RMR Group, LLC and Owned by SIR Chicago, LLC
400 South Jefferson Street was constructed in 1946. The structure was designed as the Newman-Rudolph Lithographing Company Building by Alfred Alschuler and R.N. Friedman, two prominent members of Chicago's architectural community. The building started out as an office and printing facility and remained that way until the mid-sixties. The lot itself occupies nearly two acres in Chicago's West Loop submarket and is close to Chicago's Union Station and the CTA. In 2012, 400 South Jefferson was fully renovated and was able to earn a 91 out of 100 EnergyStar rating and is now home to Tyson Foods as their downtown corporate headquarters.
Historical Building: The Old Post Office, Managed by JLL and Owned by 601W Companies
The Old Post Office is a 2.56 million square-foot, mixed-use office building in Chicago's West Loop and sits along the Chicago River. This Art Deco landmark was a vital part of Chicago's downtown for decades. But times changed, and when the US Postal Service moved to newer facilities in 1997, the building fell into 19 years of neglect and decay. While it was listed on the National Register of Historic Places in 2001, deterioration accelerated. In May 2016, 601 W bought the property and immediately acted to halt damage and address critical life-safety issues. 601 W then undertook an $800 million renovation, the largest historic redevelopment in the country. The new design preserves historic elements while transforming OPO into a modern workplace. The building now houses world-class tenant amenities, including a fitness center, food hall, lounges, conference rooms and The Meadow, which is a 5.5-acre rooftop green space. On February 28, 2018, the City of Chicago designated OPO a Chicago Landmark.
Renovated Building: Presidents Plaza, Managed by Glenstar and Owned by Glenstar & Angelo Gordon & Co.
Presidents Plaza offers a rare combination of a suburban setting with a Chicago address. The property is located minutes from the O'Hare International Airport and is steps from the CTA Blue Line. The building underwent a $20 million transformation in 2019, which included a complete renovation of lobbies and common areas, a new health club, an onsite café and the addition of a 12,000 square foot indoor-outdoor vintage-inspired tenant lounge. Presidents Plaza's Energy Star and LEED Gold certifications reflect its dedication to sustainability.
250,000 to 499,999 Square Feet: Fulton West, Managed by CBRE, Inc. and Owned by Commerz Real, AG
Fulton West is situated near the end of Fulton Market and offers an incredible vantage of the skyline from its spacious green roof. The nine-story, 290,000 square foot building also has a beautiful landscaped courtyard and on the inside, Fulton West incorporates a mix of modern and industrial elements in its two-story lobby, highlighted by a glass atrium roof. Fulton West has both the LEED-CS Gold and O+M Platinum certifications.
500,000 to 1 Million Square Feet: 150 N. Michigan, Managed by CBRE, Inc. and Owned by CBRE Investment Management
150 North Michigan is a 41-story, Class A office tower located in the heart of Chicago's East Loop Business District. The 654,000 square foot tower overlooking Millennium Park and Lake Michigan is one of the most enduring landmarks along the Chicago skyline. The building's diamond face, which is actually two offset triangles, supports various charities throughout the year that are a part of BOMA/Chicago's Illuminate Chicago Lighting Program. Its diamond perimeter is also lit at night, at times with color, providing the distinctive look that makes it unique within Chicago's nighttime skyline.