BOMA/Chicago Secures Downtown Ambassador Grant
BOMA/Chicago won a grant to provide "Downtown Ambassadors" for the Central Loop during December. We are partnering with CleanSlate to provide the Downtown Ambassador service.
Ambassadors will be actively circulating downtown streets to offer a friendly welcome to tenants and visitors, report cleanliness problems, and serve as additional eyes and ears to alert police of any safety issues.
The Ambassadors will focus on commuting corridors and transit stations, roughly concentrating between Clark to the east and Canal to the west. Members in that area are encouraged to welcome and connect with the Ambassadors.
This is a temporary program and we are interested in any feedback you may have from your interactions with Ambassadors. Please direct comments to BOMA/Chicago Executive Director Farzin Parang at fparang@bomachicago.org.
Perspective from a Downtown Ambassador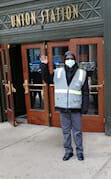 "During the holidays, Cleanslate's Downtown Ambassador team has been a resource for downtown employees and out-of-town visitors. Our crew has been busy providing vital services including directions to important facilities like the Thompson Center and immigration services, and transit instructions, including where to board public transportation. We even assisted employees from Amtrak who were doing a scavenger hunt for their holiday party. Nine out of ten times, people come to our friendly crew members to ask for assistance. Our team stands out with their branded safety vests, helping people to recognize us as a beneficial resource as they navigate downtown Chicago." 
- Thomas, Downtown Street Ambassador