2021 Sponsorship Opportunities Now Available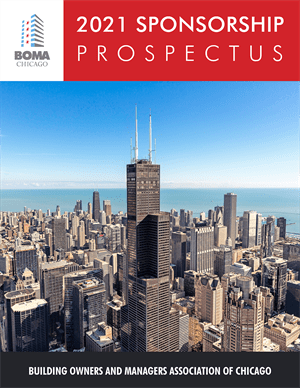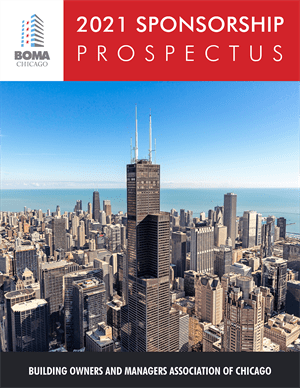 Maximize your sponsorship investment by becoming a BOMA/Chicago sponsor. Our networking events have traditionally been one of our strengths, helping to build new relationships and a strong sense of community between our Building and Affiliate Members.
As we work through a pandemic and restrictions on in-person events in 2021, our sponsorship packages will provide you with an amplified level of exposure to the BOMA/Chicago Building and Affiliate network. We have developed these sponsorship tiers so you can plan your company's involvement for the entire year including both larger virtual events and smaller, more intimate gatherings, along with at least two live events during the second half of the year.
Each sponsorship includes tickets to the events (whether virtual or live) that your company can use or that can be given to existing or prospective clients, along with a range of other benefits. Sponsors may purchase additional tickets for even greater exposure to building members. These sponsorship offerings will provide you an entire year of visibility. If and when we are able to  able to meet again in person, sponsorships will carry over to live events accordingly.
For more information, head over to our Sponsorship and Advertising page or download our 2021 Sponsorship Prospectus.
For more information, contact Beth Halat, Director of Member Services, at bhalat@bomachicago.org or (312) 870-9606.