Preparedness Committee Open Meeting Addresses Workplace Violence [Download Presentations]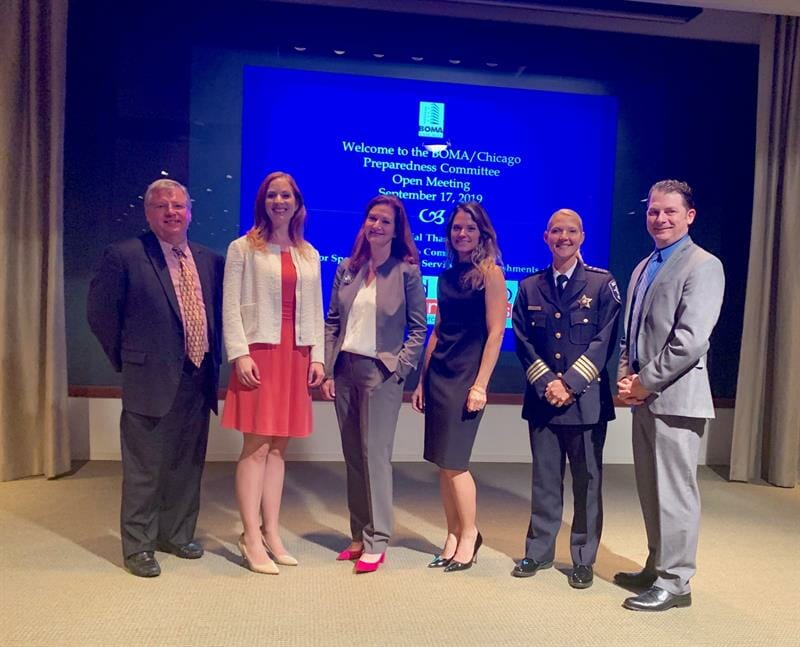 BOMA/Chicago's Preparedness Committee hosted an open meeting for property management teams at the Aon Center on September 17, 2019.
Over 150 members attended the meeting where speakers Amber L. Cox, Laner Muchin, Ltd. and Debra Kirby, Hillard Heintze addressed a number of topics related to workplace violence, including legal tools available to commercial property management teams such as trespassing laws, orders of protection, and the Illinois Workplace Violence Act. Chief of Police Kristen Ziman also provided a first-person active-shooter case study regarding the recent incident at Henry Pratt Company in Aurora, Illinois.
If you missed the meeting or would like a copy of the presentations, you can download the following:
Workplace Violence Prevention
Amber L. Cox, Laner Muchin, Ltd.
Illinois Workplace Violence Prevention Act and Security Practices
Debra Kirby, Hillard Heintze
For more information about the Preparedness Committee, contact Ron Tabaczynski, Government Affairs Director, at rtabaczynski@bomachicago.org or (312) 870-9611.