Congratulations to our 2019 TOBY International Award Winners!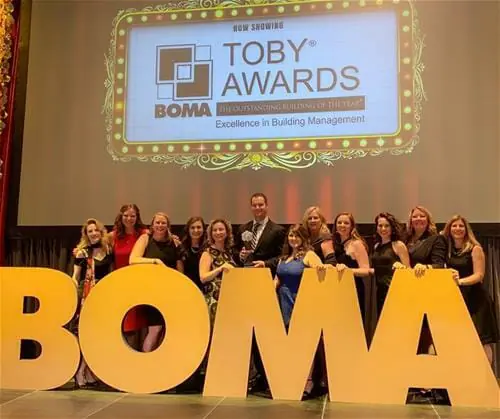 The commercial real estate industry honored 16 commercial properties with The Outstanding Building of the Year (TOBY) Award at the June 25 TOBY Awards Banquet as part of the 2019 BOMA International Conference & Expo in Salt Lake City, Utah. This year marked the 33rd anniversary of the TOBY awards. Click here to review all of the International finalists.
The TOBY Awards are the commercial real estate industry's highest recognition honoring excellence in commercial building management and operations in specific categories of building size and type. To win an International TOBY Award, a property first must win both local and regional competitions. Judging criteria include community impact, tenant/employee relations programs, energy management systems, accessibility, emergency evacuation procedures, building personnel training programs and overall quality indicators. A team of local industry professionals conduct comprehensive building inspections and grade written applications at the local level. Local winners then proceed to the regional and international competition where seasoned judges thoroughly review and score written applications.
We are so proud of our six BOMA/Chicago International TOBY nominees and are excited to congratulate the below three BOMA/Chicago buildings for winning the International TOBY Award!
2019 INTERNATIONAL TOBY WINNERS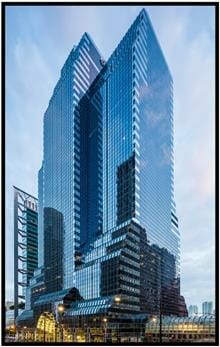 Over 1 Million Square Feet
500 West Madison
Managed by Transwestern
Owned by KBS Realty Advisors
500 West Madison is one of the busiest and unique buildings in the City of Chicago. The 1.5 million square foot LEED Gold, Class A office tower is not only home to over 90 companies employing 6,000 tenants, it also houses a two-story retail concourse and entrance to the Ogilvie Transportation Center - all of which brings over 120,000 people through the building each day. The bustling tower definitely keeps the Transwestern Management team on their toes!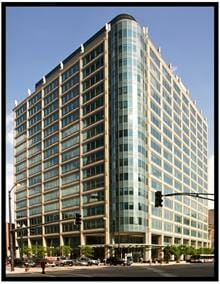 250,000-499,999 Square Feet
550 West Washington
Managed by JLL
Managed by JLL, 550 West Washington is a LEED Platinum office building that beat the Retrofit Chicago Energy Challenge by reducing energy 25% in 3 years. The building has an all-star property team that is dedicated to creating elevated experiences and efficient operations. Congrats to the JLL team!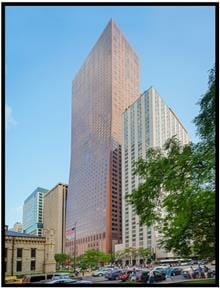 Mixed Use
737 North Michigan/Olympia Centre
Managed by CBRE, Inc.
737 North Michigan/Olympia Centre is 1.1 million square foot mixed-use property located on Chicago's famous Magnificent Mile. The property is comprised of 18 floors of office space, a 435 space parking garage, 265 residential units and a large retail space, occupied by a well-known luxury retailer. The occupants of the property benefit from the building's location and proximity to shopping, dining and entertainment and to the extensive amenities within the building, including a fitness center, tenant lounge, conference center and a Michelin award winning restaurant. Congrats to the CBRE team!
Three other BOMA/Chicago buildings were eligible to receive the international TOBY award after winning regional TOBY awards in April 2019. Congrats to the below buildings for all of their hard work!
Historical Building: Chicago Board of Trade Building, managed by GlenStar Asset Management, LLC
Renovated Building: 203 North LaSalle, managed by Transwestern
500,000 - 1 Million Square Feet: 180 North LaSalle, managed by JLL and owned by Ivanhoe Cambridge