Support BOMA's Political Advocacy Efforts
October 3, 2018
At our recent Golf Classic, BOMA/Chicago members Bob Six with Zeller Realty Group, Ben Six with Able Services and Jim Wissinger with Harvard Maintenance served time in the dunk tank (AKA the "shark tank") at this year's Golf Classic on August 9 and raised $1,200.
For real estate trade associations, a strong political action committee (PAC) is essential to safeguard the success of the industry.  As part of their advocacy roles, BOMA International and BOMA/Chicago support political candidates and elected officials who are demonstrated leaders on issues affecting the commercial real estate industry. The BOMA/Chicago PAC was formed as a state PAC under Illinois law in 1997 to support state and local candidates who have shown leadership and commitment on issues important to BOMA/Chicago members.  Since it is not qualified as a Federal PAC, it does not make contributions to federal candidates.
At the federal level, we rely on BOMA International's staff and leadership to lead advocacy efforts by maintaining relationships with members of Congress. These members of Congress eventually vote on issues impacting commercial real estate and the livelihood of those who, like us, work in the industry.  BOMA International's political arm is known as BOMAPAC .
Both our local PAC and BOMAPAC rely on voluntary contributions from members. Contributions to the PACs bolster each association's ability to represent the needs of its members before officials elected to office and help to ensure that the industry has the power to back candidates and officials who support commercial real estate issues.
Donate Today
We need our members' help to reach our fundraising goal of $2,000. If you would like to support our local and federal advocacy efforts, click here to download and complete the contribution form or contact Ron Tabaczynski, Director of Government Affairs, at (312) 870-9612. Cash, check or credit cards are accepted.
The following applies only to the 50% for BOMAPAC of your contribution: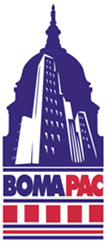 Federal law requires political action committees to report the name, mailing address, occupation and employer of each individual who contributes in excess of $200.00 in a calendar year. Contributions are not tax deductible. Corporate contributions or contributions by foreign nationals are prohibited.
Disclaimer: BOMAPAC can only accept donations from BOMA members and their immediate family members (over 18). For Federal Election Commission purposes, the "BOMA member" is a person, not a building or company. Cash, personal checks, and personal credit cards may be accepted. Contributions must be voluntary. Local BOMA associations are not required to submit any filings to the FEC - only BOMA International is required to submit FEC reports.