We would like to thank our 2021 Education Partners – Bear Construction, CBRE, Cyclone Energy Group, ESD, Harvard Maintenance, Klein & Hoffman, Titan and Zeller. We invite you to read through the below testimonials from each of our Partners.
The year-long Education Partnership is $3,000 with amazing benefits! Click here to learn more. If you are interested in the Education Partnership, please reach out to Jaclynne Madden at (312) 870-9608 or jmadden@bomachicago.org.

Thomas Henkey, CEM
Director of Emergency Management at Titan Security Group
(312) 902-3400    |    thenkey@titan-security.com
Throughout an entire career cycle, education is vital to evolving as a safety professional. I hold undergraduate degrees in science and management from St. Louis University and a Master's Degree in Emergency and Disaster Management from American Military University. Formal degrees are great, yet they are a foundation and not a final destination. With the support of Titan, I've continued learning via programs from the International Association of Emergency Managers (IAEM), BOMA International, and ASIS International, as well as agencies such as the Federal Bureau of Investigation and Department of Homeland Security. And aligned with the Titan values of continuing growth, I hope that I give something back to the community in my role as Adjunct Faculty at DePaul University. Titan Security is a proud 2021 Education Partner.
Paul Larkin
Vice President of BEAR Construction Company
(312) 245-0383    |    plarkin@bearcc.com
Bear Construction believes that lifelong learning is the key to success for our staff and our company as a whole. The construction industry is constantly changing and new technologies are constantly emerging. Bear stays ahead of the curve by understanding and embracing these emerging trends in order to provide top-of-the-line services to our clients. Our commitment to education and client satisfaction are two of the reasons why we have helped three Chicago buildings win a TOBY award. We also enjoy teaching our clients about construction, which is why I helped create BOMA/Chicago's Construction Drawing Series. Bear is proud to be a 2021 Education Partner and we look forward to meeting and working with you.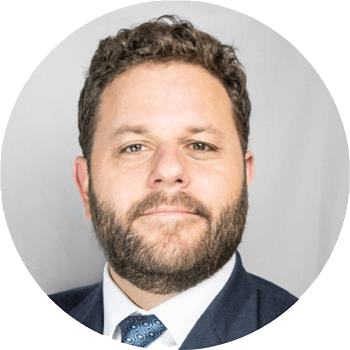 Andrew Lehrer, PE, LEED AP
Practice Leader of High Performance Buildings at ESD
(773) 802-2618  |  alehrer@esdglobal.com
ESD's mission is to Improve Society Through the Built Environment. We rise to this mission by actively encouraging our team members to discover and foster their passion for the built environment and to build their expertise through continuous learning. Our commitment to education touches every aspect of our business, from training and mentoring programs that enhance technical and management skills to investments in cutting edge technology and support of our local community through the ACE Mentor Program. ESD is proud to be a 2021 Education Partner.
Benjamin Skelton
President/CEO at Cyclone Energy Group
(312) 520-0025 | bskelton@cyclone.energy
At Cyclone we are problem solvers; we strive to find creative, innovative, sustainable solutions. We take on complex problems to be a catalyst of technical knowledge to implement actionable change. Our team strives to be trusted advisors to not only our clients, but to the communities we serve, providing education and training on high-performance building design, construction and operation. We help buildings promote their success through awards and certifications such as BOMA 360, TOBY's, LEED, WELL, Fitwel and ENERGY STAR. Cyclone's commitment to knowledge sharing and collaboration extends through sharing research, delivering educational seminars, lecturing at university and college courses and promoting STEM in K-12 schools. We are proud to be a 2021 Education Partner and look forward to the opportunity to learn together.